Manchester City to compete in WSL top tier after restructure
Last updated on .From the section Football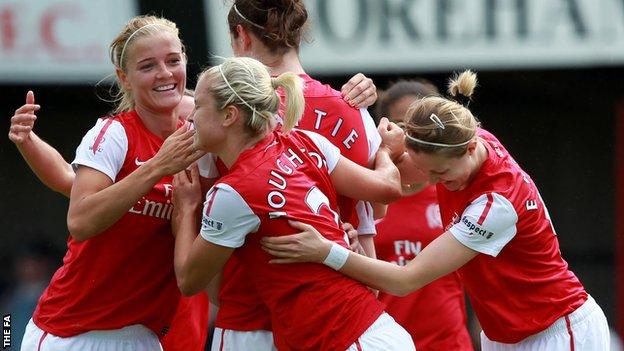 Manchester City Ladies will compete in the top flight of the women's game for the first time in their history.
The Women's Super League has been expanded into two tiers of eight and 10 teams from 2014, an increase from the previous single division of eight.
Two-time English league winners Doncaster Rovers Belles will play in the second tier as part of the change.
Teams can be promoted and relegated between the two divisions but those in the second tier cannot go down.
The Football Association hopes that the introduction of two tiers will increase competition and grow the game in more areas.
The governing body will part-fund teams in the semi-professional WSL, awarding £70,000 to clubs in WSL1 and £25,000 in WSL2.
As part of their applications, clubs had to show they will match the funds being offered by the FA and this criteria will be monitored each year with teams holding provisional licences to compete until 2018.
City currently play in the Premier League, which is the division below the WSL, but will feature in the top flight with reigning champions Arsenal, Birmingham City, Bristol Academy, Chelsea, Everton, Notts County (formerly known as Lincoln Ladies) and Liverpool from next season.
"We are tremendously excited about the club's entry in to the WSL," said Niki Taylor, Manchester City Ladies' vice-chairperson.
"This is a huge milestone for Manchester City Ladies and I speak for the whole club when I say how honoured we are to be part of this.
"The support from Manchester City Football Club to make this possible is so valuable, and we look forward to what the future has to hold."
The second tier will comprise of Aston Villa, Doncaster Rovers Belles, Durham, London Bees (Barnet FC), Millwall Lionesses, Oxford United, Reading, Sunderland, Watford and Yeovil Town.
"This is a tremendous accolade for the club and one we are very proud of," said Aston Villa's chief executive Paul Faulkner.
"At the heart of who we are as a club is the 'one club, one family' ethos and having Aston Villa Ladies FC competing in the Women's Super League is a good addition to this.
"We want our fan base to be connected to the club in all its facets and the ladies team will play their part."
The eight-strong WSL has been going since 2011 when it switched from its traditional slot on the football calendar to a summer season, with Arsenal winning the title on both occasions.
This latest move is part of the FA's five-year plan to develop the game, with the governing body pledging to invest a further £3.5m over the next four years.