Farnborough: Spencer Day upbeat despite entering administration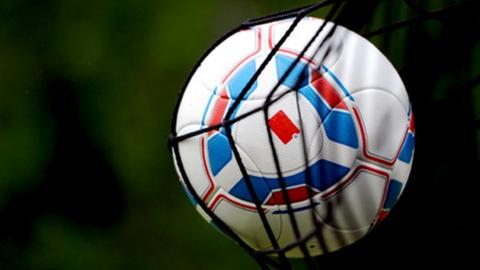 Farnborough manager Spencer Day says entering administration will help the club to find new owners.
The Hampshire side had an administration order granted on Friday, with club debts of around £2 million.
Day told BBC Surrey: "It is something which has been coming for a number of months. We have been openly looking for new owners but it just hasn't happened.
"We have made this decision as a positive statement to get our house in order and to be able to move forward."
He added: "We have taken a lot of professional advice over the last six months.
"We could have carried on. We have been self-sufficient this season but the historic debts just keep on coming. We are pretty confident administration will bring in new owners."
The Rushmoor Stadium outfit are set to appoint Walsh Taylor as administrators, who would then start a Company Voluntary Agreement (CVA).
Under Football Conference rules, Farnborough will be deducted 10 points for entering administration.
However, by the time of the Conference AGM on 8 June they must either pay all their creditors in full, or at least pay all their football creditors in full and have a CVA in place, with full agreement to pay all other creditors in full during the following three years.
Failure to fulfil either of those scenarios would incur further sanctions, including seeing the club relegated to, most likely, the third tier of the non-league pyramid.
Day insisted the figure of £2 million worth of debts was "really a false figure".
"Over £1 million of that is an ex-director's loans which are now owned by Rob Prince and myself, which are pretty much worth nothing," he said.
"There is a secured lender of another £375,000. They will [both] come off the bill.
"We have a mortgage with Hampshire Trust which is just over £200,000 and then we have some unsecured debts which are probably in the region of £300,000.
"It's not like we have got lots of unpaid players and staff. We have got one small, outstanding issue with HMRC.
"We have reduced debts by £250,000 in the last 18 months. I am owed a staggering sum of money due to work commitments.
"Predominantly the debts are from then [18 months ago] and mainly due to ground developments and payments made to players in previous years.
"The headline figure makes a lot of news but the reality figure is massively smaller - maybe only 25% of that figure.
"That is why there is so much positivity with the administrators that the right buyers can be found and the club can move forward."