Ebbsfleet United: Jessica McQueen appeals for donations
Last updated on .From the section Football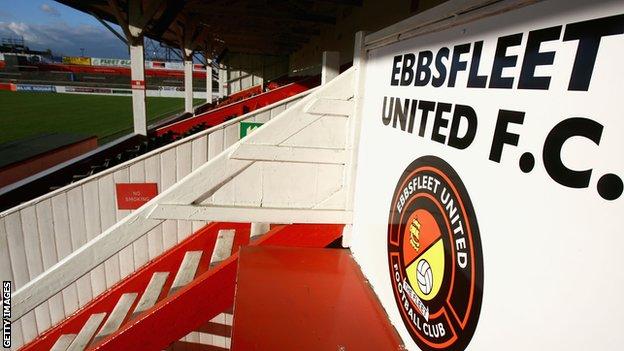 Ebbsfleet chairman Jessica McQueen has appealed for donations from fans as the club look to raise £20,000 by Monday.
The Kent club need £100,000 by the end of the month to avoid administration.
She told BBC Radio Kent: "We need the money by Monday to make a reasonable offer to people who have been patient and are waiting for money.
"If we can start getting money in, once we have got over the immediate crisis we can start chipping away and come up with other things."
She added: "If it doesn't happen by Monday then it will be very difficult indeed. Then we will have to take further advice on what we do.
"It may mean a period of administration. You can't go on forever.
"We've got a wage bill to pay and we owe a small amount in PAYE.
"Obviously they are the people that are significant as far as football clubs are concerned and rightly so.
"You can't owe those sorts of people money and you need to pay it when they tell you to pay it.
"It is not an administration [on] Monday or winding-up [on] Monday but it is a situation where the club will have to seriously look at itself and see whether it can continue."
This week the owners of the relegated Blue Square Bet Premier outfit - the website MyFootballClub - voted to relinquish their 75% shareholding to the Fleet Trust, the club's supporters' trust, and Phil Sonsara, Ebbsfleet's former chairman.
"We are working with the owners, MyFootballClub, and the Fleet Trust as nothing has been settled on a takeover," McQueen said.
"We need to focus on the here and now and what might happen in two or three weeks' time.
"The owners have offered to gift their shares to the trust and Phil Sonsara in order to try and get a new owner of the club, but the club cannot stand still and wait for that to happen.
"It still needs to be funded. It has to be that the supporters have to help us out.
"If everybody who went to Wembley [when Ebbsfleet won the FA Trophy in 2008] gave £20 it would help us a lot and keep us going. But they were one-day supporters.
"We have one or two options we are working on in order to try and give the club some stability.
"The owners have worked tremendously hard and are still trying their best now.
"Myself, Phil Sonsara, the current owners and the Fleet Trust can't do it all. Everything helps.
"The more time we can buy the better chance we have of being in business. Once the club is gone it would be difficult to get it going again."
Earlier this month Ebbsfleet were the subject of a proposed takeover bid by Carlos Kabir Karani, who is involved in football in the Canary Islands and Spain.
"Mr Karani is still locally here and I believe he has had meetings this week with the Fleet Trust and some of the other significant shareholders," McQueen said.
"So far nothing has been signed.
"It is still on the table but it hasn't really progressed too much. We need to have proof of money coming forward and I don't know whether the amounts which have been discussed have been significant enough."