Man Utd: Ryan Giggs praises Robin van Persie's impact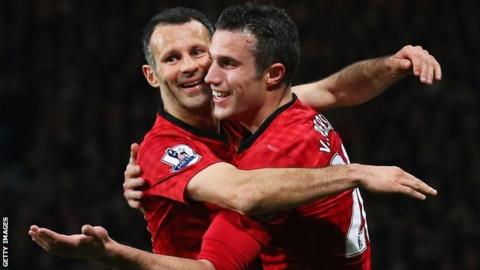 Manchester United's Ryan Giggs has hailed the impact of Robin van Persie ahead of the former Arsenal striker's return to the Emirates on Sunday.
The Dutchman has scored 24 league goals since his £24m move last summer.
Van Persie, 29, scored a hat-trick in Monday's 3-0 win over Aston Villa that secured United's 20th league title.
"We all knew what he was capable of but you don't realise sometimes when you play against someone, how good a player they are," Giggs told BBC Radio 5 live.
"[You don't realise] until you're training with them every day and playing with them every week and that is definitely the case with Robin. He's just a brilliant player."
Giggs, who has now won 13 league titles at Old Trafford, expects Van Persie's former team-mates to give him respect when Arsenal hold a guard of honour for United's players.
However, the 39-year-old is not sure what sort of reaction the Gunners fans will give to the striker, who left after eight seasons at the club.
"Obviously, you might get certain fans that aren't happy because he was their best player and scored so many goals for them," Giggs said.
"So you're going to be disappointed as a fan if he leaves your club.
"We're obviously happy that he's come to us and he's had a tremendous season.
"Hopefully the fans will give him the respect he deserves but you can't always guarantee it."
Giggs also warned Arsene Wenger's side not to expect an easy game despite United clinching the Premier League crown with four games to go.
Arsenal are in a three-way race for the last two Champions League spots, alongside Tottenham and Chelsea.
But United can still claim a record points total while Giggs says they owe it to their rivals to go all out for a victory.
"We always want to win games, and the manager [Sir Alex Ferguson] will make sure [because] if we don't perform, he won't be happy whether we've won the league or not," said the Welshman.
"We want to do other teams favours as well and make sure we apply ourselves.
"There's Champions League places at stake [as well as] relegation and places in Europe, so we want to make sure we apply ourselves in the right way."