Swansea boss Michael Laudrup dismisses Alvaro Negredo bid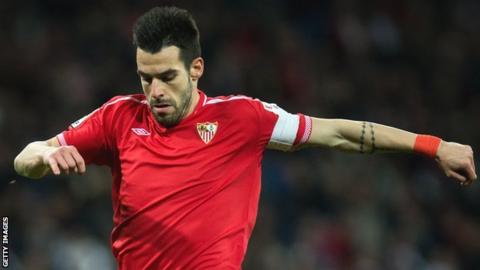 Swansea City manager Michael Laudrup has distanced the Premier League club from reports that they were prepared to bid for Sevilla striker Alvaro Negredo.
Reports in Spain had suggested Swansea had entered the race to snap up the £13m-rated forward, who has scored 18 goals in La Liga this season.
But Laudrup says they cannot outbid the likes of rivals Borussia Dortmund, Tottenham, Everton and Newcastle.
"It is out of our league, we cannot pay 10, 12 or £14m for a player," he said.
"There are other teams that want him and we are talking double figures in terms of a transfer fee."
Laudrup is keen to bolster his striking options for next season to ease the burden on Michu, who has scored 21 goals during a stunning maiden campaign in English football.
While the Spaniard has primarily been used as a striker due to his goal-scoring record, he prefers to play as an attacking midfielder and Laudrup is known to be keen to bring in Iago Aspas from Celta Vigo.
"He [Michu] has scored 17 league goals and over 20 in all competitions," Laudrup said.
"It is true in the last four or five games he has had chances he would have scored earlier in the season, but when you are talking about players like that there will be moments they just touch the ball and it will go in, other times it won't.
"But he is always there when there is a chance. Against Norwich he had two or three chances and against Tottenham as well.
"Maybe he is not scoring now as he did before, but that is because it was way above what we could ask from him.
"He is our goal-scorer but we cannot put everything on his shoulders, everyone has to score. But when there is a chance you can count on him to be there."
Swansea travel to face Chelsea at Stamford Bridge on Sunday looking to end a run of five games without a win.
The Swans are undefeated in their three games against the Blues this season, keeping two clean sheets in the Capital One Cup semi-final meetings between the sides.
"We have done well against them, and this is our fourth game this season," Laudrup added.
"It was an intense game in the league here where we got a late equaliser from Pablo Hernandez to make it 1-1.
"The two semi-finals were special games because of their importance to the club, but we will play a team who it seems are almost playing every day at the moment.
"They have one foot in the Europa League final, but Sunday is maybe more important for them. They are playing for a Champions League spot, which for a club of their size is most important."