Barcelona coach Tito Vilanova says he is staying at the club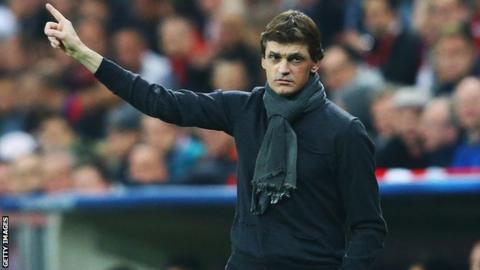 Barcelona coach Tito Vilanova says he will remain at the Nou Camp next season despite his health problems.
Vilanova had a tumour removed from his throat in November 2011 before suffering a relapse last year.
The 44-year-old had surgery in December 2012 and spent 10 weeks in New York this year to have chemotherapy and radiotherapy before returning in March.
"I feel with desire and strength I want to continue," said Vilanova, who has a contract with the club until 2014.
"I feel strong and, health permitting, I'm looking forward to continuing in the job.
"If ever I get two days off, I don't know what to do. This job is not a burden to me and the doctors told me that the best thing I could do was to work."
Vilanova replaced Pep Guardiola as manager in June 2012, having previously worked as his assistant.
During his absence, assistant coaches Jordi Roura and Aureli Altimira took charge of first-team affairs.
Barcelona won eight of their 13 competitive matches while Vilanova was away but were knocked out of the Copa del Rey by Real Madrid in February.
The Catalan side are 13 points clear of rivals Madrid in La Liga with six games to go and likely to claim their 22nd Spanish title.
However, they are on the verge of being knocked out of the Champions League at the semi-final stage following their 4-0 first-leg defeat by Bayern Munich in Germany on Tuesday night.