Defender William Murphy to leave Linfield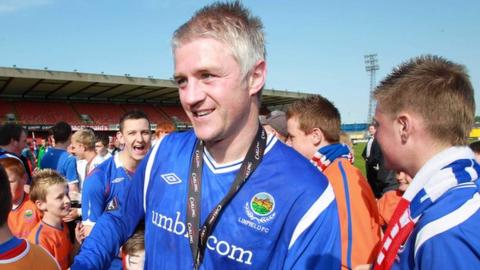 Long-serving defender William Murphy is to leave Linfield at the end of the season after the Windsor Park club opted not to offer him a new contract.
The 39-year-old will make his last - and 639th - appearance for the Blues in Saturday's match against Crusaders.
Murphy joined Linfield from Ards in September 1997 and went on to win a string of honours with the club.
Earlier this week it was revealed that promising central defender Mark Haughey is to join Linfield from Glenavon.
"I am a realist. I cannot go on for ever and all good things must come to an end," Murphy told the club's website.
"Linfield must continually strive to improve and bring in new and fresher younger players.
"I accept that my chapter in the club's success story is at end."
Blues manager Jeffrey said: "William will go down as one of the great centre backs in the history of this club.
"When you think of the number of appearances he has made for this club, it is quite incredible.
"His influence in the changing room is quite superb. All the players look up to him and respect him.
"His commitment to this club, whether it was playing for the first team or the Swifts, has been absolutely fantastic. His relationship with the supporters has been second to none."
Jeffrey said the announcement was made on the eve of the final match of the season to give fans the chance to say farewell to Murphy.