Ross County chairman upbeat on league restructuring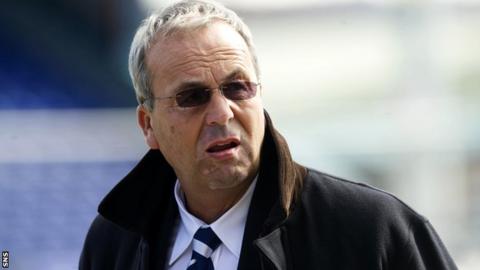 Scottish football restructuring could be agreed in time for next season, according to Ross County chairman Roy MacGregor.
St Mirren and County were the two clubs to veto proposals which would have resulted in a 12-12-18 format.
But alternative proposals were discussed at an SPL board meeting on Thursday.
"Change isn't a necessity, it's inevitable. We've got to find the right formula," said MacGregor.
The proposal rejected for next season would have involved the top two divisions splitting into three leagues of eight midway through the season.
A revised financial distribution and the merging of the SPL and SFL were included in the plans.
Despite the failure to push through that proposal, MacGregor is upbeat that change is in the pipeline.
"There is a meeting next week and I really believe that something will come back to the table that everyone can buy into," he told BBC Scotland.
"I wouldn't be speaking as optimistically as I am if I didn't believe something would happen.
"I think it could be in place for next season. The board met and are looking at alternatives.
"There was a lot of passion but also a lot at stake for some clubs. Passion is a great thing but I also think there's a unanimity between the clubs and I kept my counsel in the week or two prior to the vote.
"I did that, not only because I'm the Ross County chairman, but also a member of the league body.
"I have to respect my fellow chairmen who are there to represent the league. They knew my feelings but the wider public didn't. I'm really optimistic that over the next days and weeks we'll see an outcome."