Terry Butcher proud of young Inverness team despite defeat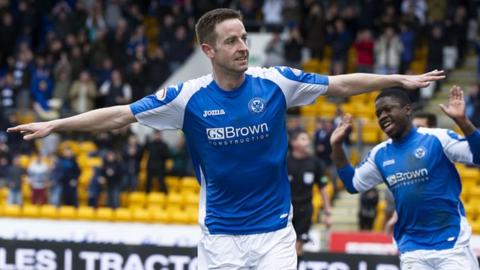 Terry Butcher had mixed feelings after watching his Europa League-chasing Inverness Caledonian Thistle side lose 1-0 to St Johnstone in Perth.
He said he felt "hard done by" after referee Craig Thomson's decision to send off David Raven after 12 minutes for a professional foul on Rowan Vine.
But he had plenty of praise for his young team.
"If my boys can play like that and show that spirit then we'll be fine in the next three matches," said the manager.
Referee Thomson did not hesitate to reach for the red card after witnessing Raven catch Vine and send him tumbling as he broke away from the Inverness back line in the early stages of the match.
"The red card changes the game entirely," Butcher told BBC Scotland.
"The ball has been played through at pace, there has been a coming together.
"He never had the ball under control. For me, it was never a goalscoring opportunity. But we'll have a look at it to see if we need to appeal.
"It's heartbreaking. You have a game plan then all of a sudden the referee produces a red card and that game plan changes.
"We feel hard done by because we haven't had a chance to show what we could do with 11 v 11 for the majority of the match."
The 10 men of Caley Thistle held on at McDiarmid Park until 13 minutes from time when Steven MacLean headed home a Nigel Hasselbaink cross.
The defeat means the third-placed Highlanders are now only a point ahead of Saints and two ahead of Ross County, with three games left in the league campaign.
Yet Butcher, with five Under-21 players in his starting line-up, sees plenty of grounds for optimism.
"We played 78 minutes with 10 men and probably the youngest back four the SPL has ever seen - a 21-year-old, two 20-year-olds and a 19-year old," he said.
"I think we have been absolutely terrific. We frustrated St Johnstone and stopped them from playing. We had to concede a lot of ground and I thought we might just do something on the break.
"We were looking quite secure and then we made a mistake and conceded a goal. I can't say any more about my boys' attitude and desire and togetherness. It was absolutely brilliant"
Looking ahead to the visit of second-placed Motherwell next week, Butcher called it "just another game".
"We've lost eight games this season - three to Celtic, three to Motherwell, one to St Mirren and one to St Johnstone," he added. "That's not a lot.
"We have a cause now. We feel hard done by. We'll look forward to that."