Cardiff City owner Vincent Tan hopeful over Langston debt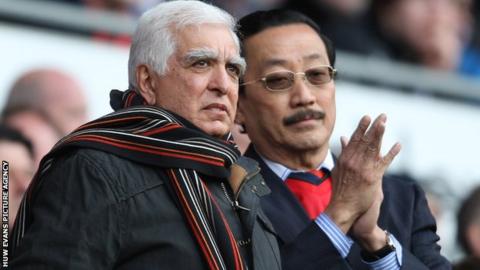 Owner Vincent Tan is hopeful Cardiff City can reach agreement with creditors Langston over the club's debt.
The debt to the Langston company, taken out in 2004, is believed to be in the region of £24m.
Langston's spokesman Sam Hammam, the former Cardiff owner, was a guest of Tan for the 1-1 home draw with Bolton.
"We are still talking and trying to find a solution and I'm sure we will find an amicable solution that is good for Cardiff City," Tan said.
"We have some issues with Sam Hammam over this Langston thing. I've met him and we are talking and I've invited him to come. Sam Hammam is here as my guest and as my friend."
Controversial businessman Hammam brought an end to his six-year tenure as City chairman in October 2006 after agreeing to sell his majority share holding.
Former Cardiff City chief executive Alan Whiteley suggested in 2012 that Hammam could be offered an honorary life presidency at the club as part of a deal with Langston.
And Tan hinted Hammam could be offered a role at a club which will play in the Premier League for the first time next season.
"Sam Hamman has a lot of knowledge of football clubs. He brought Wimbledon up from nothing to the Premier League," Tan added.
"He can even help me and advise me on football."
Ex-Cardiff captain Jason Perry believes Hammam would get a mixed response from supporters should he accept a role with the club.
"Some fans think he's [Hammam] played a major part," Perry said.
"And some fans believe some of the decisions made like the shirt [change] are a reaction from the decisions he made, [and] the debt Cardiff City are [in].
"We must not forget the new owners inherited a big, big debt.
"There's a lot to be done but the one positive thing, it has to be said, is they're talking.
"For any deal to be struck and for anything to be solved for the best interests of Cardiff City Football Club, you have to be able to talk.
"That's a positive step - they're in the same room together."