Wolves manager Dean Saunders wants to stay at struggling club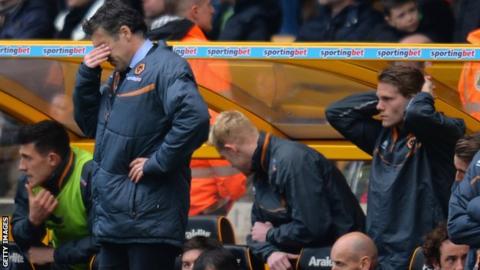 Dean Saunders wants to be given the chance to bring back "happy" faces to Molineux after seeing his Wolves side slump to the brink of a second successive relegation.
After a 2-1 defeat by Burnley, Wolves are three points adrift of safety before their final game at Brighton.
If Wolves do drop into League One, Saunders insists: "I have to sort the club out from top to bottom.
"Whatever happens I am 100% confident I can give the fans some happy Sundays."
Wolves now need to win comfortably at Brighton next Saturday, while hoping Barnsley lose at Huddersfield and Peterborough are beaten heavily by Crystal Palace, to effect a six-goal swing on Posh in the process.
Saunders will be hoping to avoid his own second successive relegation having taken Doncaster Rovers down to League One a year ago.
Although already sounding resigned to Wolves' fate, Saunders hopes he avoids the sack and gets the chance to bring the club straight back up - to repeat a job he kick-started at Doncaster, where he built the promotion side that Brian Flynn has now taken up.
Having been brought in by Wolves in January to become the club's fourth manager in less than a year, Saunders is aware there is no guarantee he will still be in a job come August.
"You never know do you? With so much money at stake, managers are getting sacked every five minutes," explained Saunders.
"But I will get my head down, work my hardest and try my best. That is all you can do. Sorting this club out will be tough but I have got to do it."
The unrest among the Wolves fans spilled over at the end of Saturday's game with a pitch invasion from Molineux's South Bank of an estimated 500 angry home supporters who took their chance to vent their spleen at club owner Steve Morgan and the long-serving chief executive Jez Moxey.
"Everyone takes the blame in this situation," said Saunders. "If you are in charge of any company you get the blame.
"Like me, I am in a position where if I don't get results I will get criticised and I have to take it on the chin.
"The team has lost 80-odd games in the last four years and they have not had many good Sundays. They are frustrated and I don't blame them."
Having been relegated from the Premier League last May, the protesting fans primarily aimed their chants at the board's apparent emphasis on building an estimated £15m new stand at the North Bank end of the ground, rather than strengthening the team, following the big money departures last summer of Steven Fletcher,Matt Jarvis and Michael Kightly.
But the mood rapidly turned ugly, with an advertising hoarding thrown by one invader at stewards, a paramedic left grounded and another fan having an altercation with Wolves centre-half Roger Johnson.
A Wolves spokesman said: "There were no reports of any injuries and one arrest."
"I saw people starting to run on the pitch. I didn't see anything else," added Saunders. "I was busy trying to keep my chin up at the time.
"If Roger Johnson has been involved in some kind of incident, then I will investigate to find out exactly what happened."