Brian Flynn delighted as Doncaster go up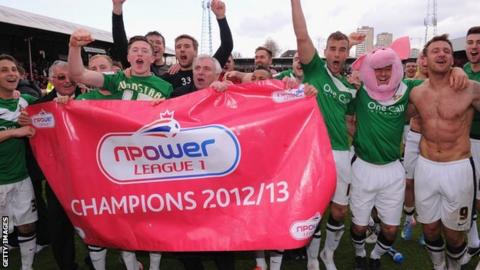 Doncaster boss Brian Flynn admitted he feared the worst when Brentford were awarded an injury-time penalty but called their promotion "brilliant".
Brentford missed the late penalty and Doncaster broke upfield to score a late winner that not only sent them up but sealed the League One title at the expense of Bournemouth.
"So close, wasn't it? All credit to the lads," Flynn told BBC Radio Sheffield.
"It was a monumental effort. Thankfully it came right in the end."
James Coppinger scored the goal five minutes into injury time and Flynn could not contain his delight.
"You concede a penalty and you fear for the worst but thankfully it turned out brilliant," he said. "It's great for James Coppinger. I'm delighted.
"It's a beautiful game this and crazy at times. To come up as number one is what the chairman wanted and thankfully we've done it.
"We have to enjoy the moment and build on this for next season and I'm sure we will."