Cardiff City owner Vincent Tan rules out further rebranding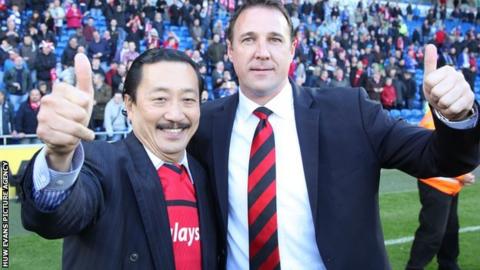 Cardiff City owner Vincent Tan has ruled out a name change and further rebranding for the Premier League-bound club.
Tan controversially announced the club's rebrand from blue to red in June 2012 and introduced a new club badge.
"We're not going to change the name [and] no more rebranding," Tan said.
"But it's a little bit conflicting when you're singing blues and Bluebirds. When Chelsea come here what do we sing?"
Tan added: "I don't know what we should do about that. It sounds a bit confusing.
"Maybe the fans should think about that and tells us what we should do."
The Malaysian businessman was at Cardiff City Stadium to see Cardiff presented with the Championship trophy after a 1-1 draw against Bolton Wanderers.
Cardiff will play in the Premier League for the first time next season and Tan has said he is willing to offer manager Malky Mackay a £25m transfer fund.
And Tan believes the controversial decision to rebrand the club last summer was the right decision.
"I still believe that red is a lucky colour for Cardiff and for Wales," Tan said.
"After all your national flag is a red dragon so we're putting the red dragon back. The bluebird still remains.
"I jokingly said previously the bluebird can fly, but it's always been bullied by other symbols.
"So now we have the bluebird protected by a strong dragon and the bluebird is teaching the dragon how to fly higher."
Tan was quoted in the Malaysia press as saying he would consider offers for the Welsh club.
But the Malaysian businessman is planning to stay long term and hopes to see Cardiff become an established Premier League club, saying: "God willing, I'd like to be here for the long haul."