Martin Ling: Torquay manager to have talks on future
By Brent Pilnick
BBC South West Sport
Last updated on .From the section Football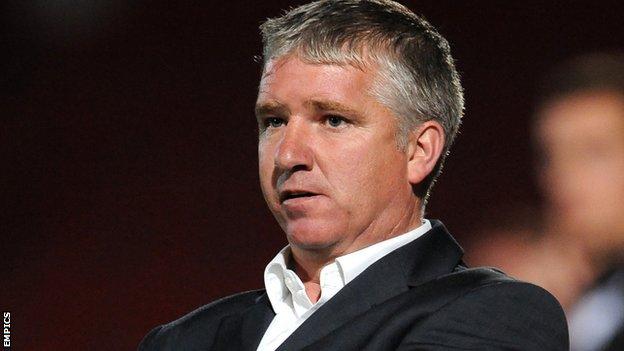 Torquay United will hold talks with manager Martin Ling on Monday as they begin preparations for next season.
Alan Knill and guided them to League Two survival after a
"Martin Ling's coming back on Monday and we'll meet on Monday and sort things out," Gulls vice-chairman Simon Baker told BBC Late Kick Off.
"He is better now," Baker added when asked about Ling's condition.
And Baker was full of praise for Knill, who took over in February after the club suffered five successive defeats as Ling's assistant Shaun Taylor tried to cope on his own.
"Alan has been amazing," said Baker.
"He's very generous, he's not charged us a penny other than what we've paid in expenses.
"He's given all his time, he's worked incredibly hard, all the time, every day of the week, and he's done a brilliant job.
"He's turned round what was a very low in confidence and worried team. It's been a very turbulent year."
Baker reckons relegation would have cost Torquay £400,000 next season and £600,000 every season after that.
But Knill, who will stay in the Torbay area for a week after the season on holiday, says he and his assistant Chris Brass were grateful to get a chance after an unhappy time at Scunthorpe United.
"I can't remember many days walking off the training pitch at Scunny saying 'today's been a great day', but here every day's been like that and I've really enjoyed it from start to finish," he said.
"When the time came and we got the sack we felt terrible, but we also felt that if the opportunity came again to work together we would and we'd try our best to enjoy it.
"It's been so easy to enjoy it here, it's a great place and I've worked with a group of players that are so honest.
"I'll have a holiday now, and then, like every unemployed manager, I'll wait for a phone call.
"Whatever you do you're looking to improve your CV and i think I've come here and improved my CV."
You can see more of Torquay's final day draw with Bristol Rovers on BBC Late Kick Off on Sunday night on BBC 1 at 23:40 BST or on the BBC iPlayer.