Barnet: Graham Stack vows to help return to Football League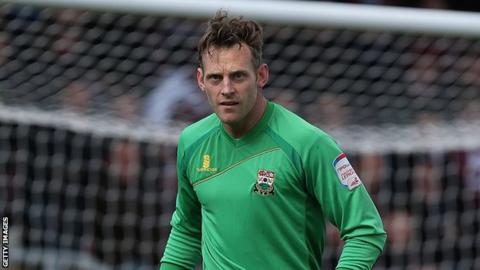 Barnet goalkeeper Graham Stack says he will do all he can to help the club regain their Football League status next season.
The Bees were relegated from League Two on goal difference on Saturday.
He told BBC London 94.9: "I like to lead and take responsibility and there will probably be more of that.
"I know what is in front of me. While I am a Barnet player I will move heaven and earth to try and get us back in the Football League."
He added: "I signed a three-and-a-half-year deal in January so I showed my commitment.
"I am not one to shy from any challenge."
Barnet headed into the final day of the season knowing that a win at Northampton would secure their League status.
However the promotion-chasing Cobblers which, coupled with AFC Wimbeldon's win over Fleetwood, saw Barnet's eight-year stay in League Two come to an end.
The former Arsenal and Reading stopper is aware that the Conference Premier is a difficult league to win promotion from, but he is confident the club can mount a challenge.
"I have got friends who play in the Conference," Stack said.
"You have only got to look at Luton sitting in mid-table. But Barnet is a big club and we have got enough quality within the group now.
"The big question is who is going to be here next season?
"The club will have to restructure financially with wages.
"If we get a group together who are determined I can't see there being a problem. But it is going to be a tough, tough ask.
"The fact of the matter is we will have to get together as a group or else we won't go anywhere.
"It will be a massive effort for us get back in the Football League but it is a challenge I am sure everyone is relishing."
Stack believes Barnet's early season form, which saw them pick up just three points from their opening 12 league games, is the main reason for their relegation.
"Over the last 30-odd games, as a group, we could not have put in any more effort or endeavour," the 31-year-old said.
"I think the damage was done early on for us.
"[We took] only three points out of a possible 36 and we'll look back on that as a group. There was naivety and we didn't do enough.
"We have improved under Edgar Davids but it has been too little, too late.
"There's disappointment, tears and everything you'd expect from a team which is no longer in the Football League.
"And to find out we have gone down on goal difference is even more heart-breaking.
"We spoke about it recently - about looking at each other and knowing you haven't been able to give any more. That is how I live my life.
"Over the course of the season we have not done enough as a group.
"The knock-on effect is massive. We know there are permutations behind the scenes financially.
"That hurts me as well."