Wll Buckley says Brighton must handle play-off pressure
Last updated on .From the section Football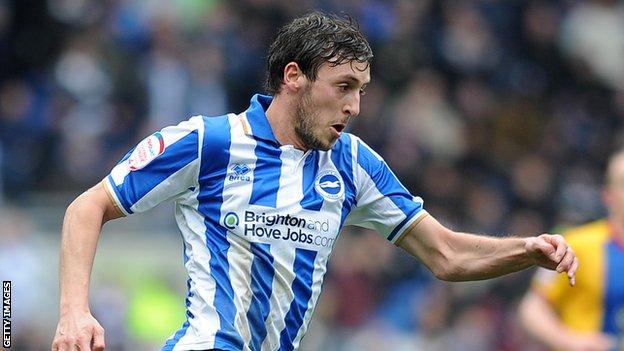 Brighton & Hove Albion winger Will Buckley hopes the club can remain relaxed in the Championship play-offs.
He told BBC Sussex: "It is going to be great and exciting but there will be a lot of pressure. We know we are good enough to get in the Premier League this season.
"We will be putting pressure on ourselves but we have just got to enjoy it now."
He added: "It [playing in the Premier League] is what everyone dreams of."
Buckley, who extended his contract until the summer of 2017 in January, said he believed the Seagulls would be able to challenge for promotion this season.
"I did, to be honest," the 23-year-old said.
"I expected it in the first season [last year] but it is not as easy as that coming up from League One.
"We set our standards last year and we have built on it this season and got there in the end."
Brighton, who last played in the top tier in 1983, now face a wait to find out who they will face in their semi-final tie.
"Every team will be up for it and it will be 50-50 whoever we play in the semi-finals," Buckley said.
"We can dare to dream to get to that final. The top six are all good teams in this league so it is going to be difficult, but we are looking forward to them."
Albion midfielder Dean Hammond was pleased the club have managed to secure a play-off place with one game of the season to spare.
"It is nice to achieve it and it is what we have been working for all season," Hammond told BBC Sussex.
"The play-offs are one-off games. We don't fear anyone.
"When we are playing well and on top form we are a good team.
"Once you are in the play-offs, the aim is to get promoted and we will be working hard to achieve that."