Real Madrid & Barca's Champions League comeback hopes
By Andy West
In Barcelona
Last updated on .From the section Football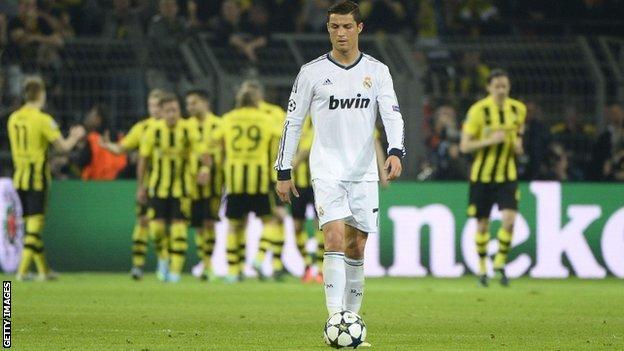 After suffering last Wednesday night, you might be tempted to think that Real Madrid had resigned themselves to a third successive Champions League semi-final exit.
Ever since the end of their disastrous performance at the Westfalenstadion, the Spanish giants have been motivated by one word: comeback.
Within minutes of the final whistle, manager Jose Mourinho faced the inquisitive gaze of Spanish television to graciously accept that his team had been second best and that there were no complaints about the result.
But he finished the interview by providing a sharp answer to the question of whether a comeback was possible: "Yes."
A few minutes later, legendary goalscorer Emilio Butragueno, who is now the club's Director of Institutional Relations, used his customary post-match grilling as an opportunity to remind depressed Madrid fans that his team of the eighties had succeeded in pulling off a number of dramatic second leg European recoveries - and now it's time for the current crop to follow suit.
Madrid's media have been more than happy to toe the party line.
Saturday's front page headline in big-selling newspaper Marca was "Derbi...County" - a play on words referencing both the local derby against Atletico Madrid on Saturday evening (won 2-1 by Mourinho's men thanks to a winner from Angel Di Maria) and a famous European Cup victory over Derby County in 1975.
Just like Dortmund last week, the Rams triumphed 4-1 in the first leg of their last sixteen meeting at the Baseball Ground, largely thanks to a hat-trick from Charlie George.
But the second leg at the Bernabeu resulted in an improbable turnaround as two goals apiece from Santillana and Roberto Martinez secured a 5-1 victory after extra time, allowing Madrid to progress.
That, of course, is exactly the kind of result Madrid will be looking for on Tuesday as they attempt to achieve a most unlikely comeback against Dortmund.
And although there's a great deal of respect for the all-action German side after their magnificent first leg performance, Madrid's passionate army of fans certainly haven't given up on their team's dreams of advancing to the Wembley final.
The victory against Derby, a 6-1 demolition of Anderlecht, a 3-0 win against Inter Milan and a 4-0 beating of Borussia Moenchengladbach: they have all been hastily cited as stirring historical examples of exactly what can be achieved in the fiery cauldron of the Bernabeu in a seemingly lost second leg cause.
Probable? No. Possible? You bet.
With Cristiano Ronaldo at their disposal - assuming he recovers from the undefined "muscular problem" which kept him out of Saturday's traditional victory against Atletico (it's now 10 consecutive local derby wins for the bigger Madrid brothers) - Los Blancos are a long way from accepting that their team's Champions League exit is inevitable.
Over in Barcelona, meanwhile, it's a different story.
Last Tuesday's was a humbling experience; an almighty beating on a scale that nobody had anticipated.
Barcelona have lost games before, of course, but it was the first time in a long time that they have been so thoroughly outplayed.
In the immediate aftermath of the first leg, centre back Gerard Pique summed up the prevailing mood of pessimism by admitting
On Friday, manager Tito Vilanova responded to his team's crisis by attending his first press conference for more than three months - the Barca boss was sidelined in New York between mid-January and the end of March for a programme of medical treatment after undergoing surgery for throat cancer shortly before Christmas.
Vilanova delivered a heart-warming performance in front of the massed ranks of cameras, microphones and dictaphones at Barca's training ground, dispelling fears that his long-term future as manager was in doubt and reiterating his belief in the squad - and their renowned 'tiki-taka' philosophy - that has delivered so many trophies in the last half-decade.
But he deliberately stopped a long way short of pledging a dramatic second leg comeback against Bayern.
The most he could offer was an assurance that he will not "throw in the towel" and that his team will "go out in front of our fans and show them what we are made of".
One reason for tentative optimism is the gradual improvement in fitness being shown by Lionel Messi as he continues to recover from a hamstring injury.
Looking anything but fit, the Argentine star was an anonymous presence in last week's first leg at the Allianz Arena, barely getting a kick and utterly failing to threaten the Bayern defence on the few occasions that he did receive possession in advanced areas.
On Saturday evening, though, Messi started to look like his old self as he emerged from the bench with thirty minutes to play and his team trailing 1-0 at Athletic Bilbao.
Within eight minutes of his arrival, Barca were back on level terms as Messi received a pass 30 yards from goal, danced around four challenges and rolled a shot of perfect precision into the bottom left corner with the effortless ease of a champion golfer holing a two-foot putt.
And ninety seconds later, they were in front as Messi met a cross from Dani Alves with a header into the path of Alexis Sanchez, who controlled on his chest before spinning to score.
The game ended up as a 2-2 draw after a last-minute equaliser from Bilbao's Ander Herrera, but Messi's impact had been significant and coach Jordi Roura acknowledged: "The better Leo is, the better we are. He's the best in the world - of course we notice it when he's not there."
Messi has achieved many things in football, but turning around a 4-0 deficit against a mighty team like Bayern Munich is surely beyond even his immeasurable skills. Isn't it?