Plymouth Argyle chairman expects manager John Sheridan to stay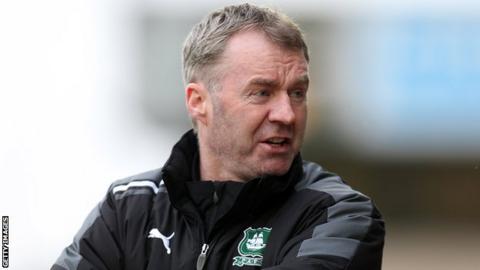 Plymouth Argyle chairman James Brent expects John Sheridan to sign a new deal as manager of the League Two side.
Sheridan after with the club in the relegation places.
"We are keen to retain John Sheridan," Brent told BBC Radio Devon.
"John has indicated that he is happy at the club and we will try and reach an agreement with him over the next few days," he continued.
The club has not discussed any new contracts with players while they were fighting relegation, but Brent said he will now talk about the future of the squad when he meets with Sheridan.
"John's got a view on that and that's one of the things I'll clearly be talking to him about over the next few days.
"He's clearly formed a view as to how he sees the team shaping up next season in terms of both current players and prospective signings."
Brent, believes the changed mentality Sheridan has brought to the squad was the main reason Argyle clung onto their Football League place.
"I've learnt that a culture of wanting got win, rather than not wanting to lose is quite a different culture.
"One to the things that John Sheridan's brought to the team is that a draw is not acceptable, that a win is acceptable - and nothing else.
"I've also learnt that performance on the pitch is not purely correlated towards budget and that there's quite a lot more that goes into a winning team than money," he added.
However, Brent believes that the redevelopment of the club's antiquated Mayflower stand as part of a £50m project in the city will boost the team's prospects in the next few years.
"It's not good for this football club to be dependent on a rich bloke putting in money every so often," he said.
"What we want is to get the club financially sustainable with the money that it requires to build a team to take it back to the Championship and the grandstand is a big part of that.
"It'll generate additional net profits to the club of £1-2 million per annum and that goes a long way in the lower leagues to building a very successful team."