Bundesliga or La Liga: Does the German league trump Spain's?
Last updated on .From the section Football504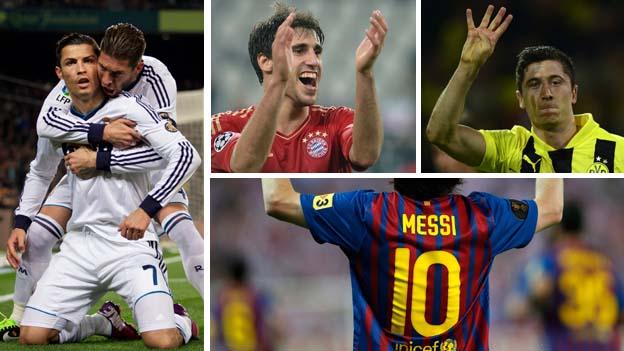 With Bayern Munich and Borussia Dortmund on the cusp of an all-German Champions League final, can we conclude that the Bundesliga is best?
Or are the sides they respectively demolished in the semi-final first legs - Barcelona and Real Madrid - ready to lead an amazing Spanish recovery, both this year and next? Our German football expert, Raphael Honigstein, and our La Liga guru, Andy Brassell, argue it out...
STRENGTH OF TOP TEAMS:
Raphael Honigstein (RH): Paul Breitner, the former Bayern Munich and Real Madrid midfielder, does not believe in false modesty. "Our aim is to dominate world football from the top down," said the 61-year-old, who is now an advisor to Bayern's board.
The Bavarian side certainly believe another golden age of success in Europe - they won the European Cup three times in a row in the mid-70s - is at least a possibility, and that the big two Spanish clubs might well lose some of their firepower in the wake of southern Europe's economic crisis.
Dortmund's place at the top table of European football looks less certain though, especially if Robert Lewandowski follows Mario Gotze through the exit door this summer. They will have to replenish their ranks well to get near the latter stages of the Champions League again.
Andy Brassell (AB): Nobody in Spain doubts the gravity of their two leading teams' heavy defeats in the first legs. 'Bundes 8 Liga 1', read one headline in the Madrid-based sports daily Marca.
But let's not get too carried away just yet in talking about a 'changing of the guard' in European football.
For a start, Bayern Munich and Borussia Dortmund have hardly come from nowhere. Neither can we take two poor performances by Real Madrid and Barcelona as proof of their demise.
Barca's humbling by Bayern has prompted some soul-searching that was probably overdue. More than one commentator has pointed out the expensive transfer mistakes that the leaders of La Liga have made in recent years - particularly in contrast to Bayern's own costly, but effective, recruitment.
There is also likely to be profound change afoot at the Bernabeu this summer. Jose Mourinho looks likely to move on, and president Florentino Perez will be keen on a more expansive approach.
Any new team is highly likely to be built around Cristiano Ronaldo, who is expected to sign a new contract regardless of whether his fellow Portuguese Mourinho remains.
What is clear is that the big two remain probably the biggest brands in world club football - and that is unlikely to change soon. "A strong Real Madrid and Barcelona is something that benefits all of Spanish football," said new Liga de Futbol Profesional (LFP) president Javier Tebas last week.
STRENGTH IN DEPTH:
RH: Schalke and Bayer Leverkusen are good enough to beat Premier League sides like Chelsea and Arsenal on any given day. But they are one, if not two, levels behind monolithic Bayern and the very best in Europe.
All four German Europa League teams (Stuttgart, Borussia Monchengladbach, Hannover and Leverkusen) made it to the knock-out stages but all were eliminated by the time the quarter-finals came around.
Next season, Eintracht Frankfurt and SC Freiburg might well be involved, along with Hamburger SV. A few near misses from Hamburg and Werder Bremen in recent years in the Europa League - as well as third place in Uefa's coefficient rankings - suggest the overall quality is pretty high but the fierce domestic competition and fluidity in the league table have made it more difficult for sides to get established in Europe's second competition.
When it comes to results, Spain are well ahead with seven European finalists compared with Germany's one in the last decade but, again, the momentum might well be shifting. We have already seen at least one Spanish side (Deportivo La Coruna) severely affected by debt and financial mismanagement; more could follow.
The Bundesliga, however, is full of clubs like Stuttgart, Bremen, Hannover and Wolfsburg who have enormous potential to improve on the pitch, commensurately with their financial resources.
All in all, though, German clubs still have a fair way to go before they can collectively be considered better than their Spanish rivals.
AB: There is a tentative hope that we might see more financial equality in La Liga in the future, but Tebas's plan is more evolution than revolution. Any collective bargaining for TV rights will continue to be weighted in favour of Spain's big two.
Yet in terms of life below the summit, things are not quite as bleak as some would have you believe. For starters, La Liga's top four is not the closed shop it once was. Atletico Madrid have flourished in the last 18 months under coach Diego Simeone, winning the Europa League and pushing their city rivals for runners-up spot in La Liga this season.
Malaga have wowed the Champions League in their debut season, and continue to push for the European places in the league. Despite continuing financial concerns, Valencia were also impressive in the Champions League and are chasing a top-four finish under new coach Ernesto Valverde.
New names are emerging too. Real Sociedad have improved markedly under French coach Philippe Montanier this season. They are favourites to finish fourth, having beaten Valencia 4-2 on Sunday to open a five-point lead over their rivals.
Further down, Madrid's third club, Rayo Vallecano, have recovered from the loss of Michu to Swansea to enjoy a superb campaign. Armed with fresh talent including young Brazilian forward Leo Baptistao, they are chasing a Europa League place.
YOUNG PLAYERS:
RH: The average age in the Bundesliga has come down continually over the past 10 years, as a plethora of young, talented players have pushed out the older and less gifted.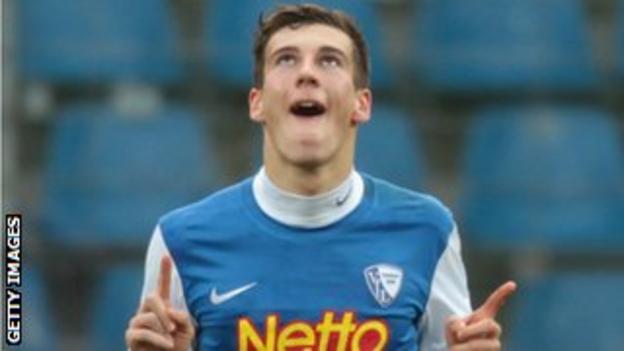 Marco Reus (Dortmund) and Thomas Mueller (Bayern) are still only 23, while Dortmund's Ilkay Gundogan is 22. Behind Mario Gotze, 20, the likes of Julian Draxler (19, Schalke) and Leon Goretzka (18, Bochum) are poised to make big waves in coming seasons.
The German youth system has turned into a production line of technically proficient players, and German coaches and club bosses - as well as supporters - are all actively supporting their development in the senior squads.
Germany manager Joachim Loew has more excellent players to choose from than any predecessor in living memory. Most importantly, most of them seem to blend the new emphasis on ball skills with traditional 'German virtues' such as physicality and a strong mentality.
AB: Spain's next set of youngsters is already appearing. The Barca production line shows little sign of slowing up. Cristian Tello is already emerging and B-team star Gerard Deulofeu is expected to be next.
Young players from Madrid's La Fabrica academy have traditionally struggled to break through into the first team. This, rather than producing the players in the first place, has recently been the problem.
There has been the odd exception, like Iker Casillas. And others will flourish elsewhere in La Liga, as past graduates including Chelsea's Juan Mata did at Valencia. So if current starlets like Alvaro Morata and Jose Rodriguez fail to nail regular first-team places, expect them to pitch up elsewhere in Spain - much to La Liga's benefit.
FINANCIALS:
RH: Both the Bundesliga and La Liga turn over roughly the same amount of money, around 1.7bn euros (£1.43bn) for 2010-11. But centralised marketing in Germany ensures that the bulk of the income is split equitably.
As a result, German professional clubs made a profit of 171m euros (£144m) - more than double those in the Premier League, which is the second most profitable league in Europe. Debts, by and large, are manageable, and the strict licensing system keeps expenditure in check.
Four clubs - Bayern (who finished fourth last season), Dortmund (11th), Schalke (14th) and Hamburg (18th) - made it into the top 20 in the latest Deloitte Money League and Dortmund, in particular, have a good chance to overtake clubs like Milan and Liverpool and make it into the top 10 next year on the back of their strong Champions League showing. On the whole, revenue should keep growing, since TV rights are still relatively undervalued - especially outside Germany.
AB: There is a tentative hope that we could see more financial equality in La Liga in future, but don't bank on it.
Real Madrid and Barcelona currently receive around 50% of the 650m euro (£547m) total broadcast revenue between them. Even a switch to collective bargaining for TV rights will continue to be weighted in favour of the big two.
Real Madrid and Barcelona occupied the top two spots in Deloitte's Football Money League in 2013. However, Valencia - the only other Spanish club in the 2011 top 20 - dropped out of 2012's edition. Their revenue will fall significantly should they fail to make the Champions League, although Atletico could enter the top 20 next year.
STYLE OF PLAY:
RH: There's never been a single German playing style, certainly not in a tactical sense. What we are seeing now at the best two or three clubs is a successful blend of very disparate approaches, with a German eye for detail, strong physical basics and high levels of professionalism on and off the pitch.
But there's plenty of room for improvement below the likes of Bayern and Dortmund. Quite a few teams - Wolfsburg, Bremen, Stuttgart - are underachieving because of poor transfer strategy or inadequate coaching.
AB: If anything, the manner of Bayern's stellar performance against Barcelona at the Allianz Arena was the ultimate compliment to the Catalans. Hard-pressing opponents and breaking into space on the flanks have been the hallmarks of Barca's dominance.
La Liga's imprint on European football is still clear to see and the Spanish style is not about to wither and die.
SUPPORT:
RH: Thanks to affordable ticket prices, state-of-the-art stadiums and fan-friendly kick-off times, the Bundesliga has long been the best-supported league in Europe. In the first half of 2012-13, the average attendance was more than 42,000 per game and a new record beckons.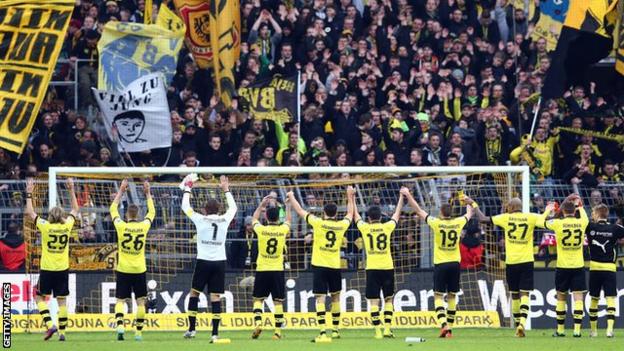 Appetite for TV coverage has been insatiable, too. More than 13m people watched Dortmund's 4-1 win over Real Madrid live on German TV. Two Bundesliga games are shown live free-to-air each season, there's a Match of the Day-type highlights programme at Saturday tea-time and every single Bundesliga and DFB Cup game is available live to pay-TV subscribers.
AB: One thing league chief Tebas is keen to do is make football in La Liga more affordable for fans - a hat tip to the Bundesliga if ever there was one. It is currently one aspect in which Spain lags behind Germany.
The average league attendance for this season is 29,099, a small drop from last season's 30,275. Yet seven sides average below 20,000, and this contributes to the poor financial shape of many of the division's clubs.