Newcastle United: Shola Ameobi demands run-in bravery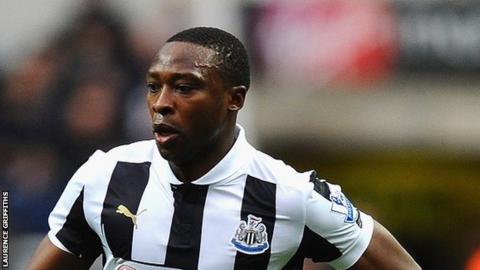 Newcastle United need brave men on the field if the club is to avoid relegation, according to experienced striker Shola Ameobi.
Newcastle were thrashed 6-0 at home by Liverpool on Saturday.
The result leaves United five points clear of the relegation zone, but having played a game more than Wigan Athletic in 18th.
Ameobi told BBC Newcastle: "We have to make sure we've got brave men out there for our last three games."
Newcastle's heaviest defeat at St James's Park for 87 years left some supporters wondering whether they will be able to recover quickly enough to pick up the points they may need from their final three games.
The team will travel to West Ham and Queens Park Rangers before playing Arsenal at home.
Ameobi, who has made over 300 appearances in his 12 seasons with the club, said one particular aspect of the defeat concerned him more than any other.
"The most disappointing thing was we didn't have that response which we normally do. We didn't pull our sleeves up and try and stem the flow of goals, and this week we'll be looking at that and putting it right," he explained.
"I think the thing we have to understand as players and a club is that we can't rely on anyone else - you have to go out and grab it and do it yourself.
"This is a team that's supported very vigorously, which is great for us as players, but flip that around and when things aren't going quite as well as you'd like it can become a pressure cooker.
"But that's the game of football and something as players we have to deal with, and the team that deals with it the best - that copes under the severest pressures - is the team that will stay up. "
Ameobi, 31, was an unused substitute against Liverpool, but after the game Newcastle manager Alan Pardew indicated he may look to use players with more experience for the run-in.
"This game doesn't give you anything, you have to go out there and work hard, and continue to work hard, because if you don't the game is going to pass you by, other teams get better and better and we've found that this season," said Ameobi.
"But as a team we have to stay together and focused. We now have three cup finals when we have to make sure we're right bang at it."