Gary Johnson: Yeovil Town confident of securing new deal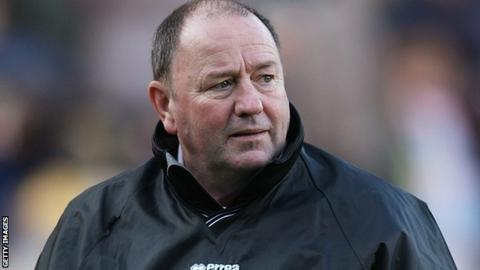 Chief executive Martyn Starnes has said he is confident Yeovil Town can agree a new deal with manager Gary Johnson.
Johnson returned to Huish Park for a second spell in January 2012 and led the Glovers to the League One play-offs this season.
His current deal expires in the summer but Starnes is optimistic the 57-year-old will commit to an extension.
"We had talks in the week and the club is amenable to what Gary is looking for," Starnes told BBC Somerset.
"Talks have been going on between Gary and the owners.
"We've got everything on the table. If a one-year rolling contract is something Gary would be interested in then we'd talk seriously about that. If he wants a fixed-term then we'll look at that as well.
"That dialogue is continuing but there are a lot of distractions at the moment."
During his first spell with Yeovil - between 2001 and 2005 - Johnson led the club from non-league to the third tier, before leaving to manage Bristol City.
Following stints at Peterborough and Northampton he was re-appointed by the Glovers, with then-manager Terry Skiverton becoming his assistant.
Yeovil improved on their 17th-place finish last term to finish fourth in League One this season and will now face Sheffield United in the play-off semi-finals.
"He's a magician, isn't he?" added Starnes. "I don't know where he gets his magic wand from but it's certainly been working this season.
"First and foremost he's a winner. He doesn't accept second best on anything. He makes very high demand on the players and gets the best out of them. It takes real strength in a manager to be able to do that."