Aldershot Town: Shahid Azeem & Kris Machala in talks over shares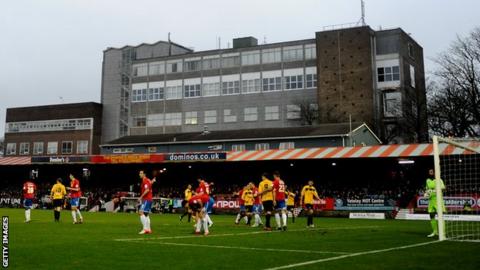 Kris Machala is set to hand over the majority of his shareholding in Aldershot Town to the club's chairman Shahid Azeem, provided that Azeem can satisfy an immediate cash requirement.
Machala is currently awaiting proof of funds from Azeem, which he hopes to receive on Monday.
Azeem announced on Thursday that the Shots faced a crucial 48 hours as they look to avoid administration.
Machala has been seeking investment in the club since January.
The Hampshire club were relegated from League Two on Saturday following their 2-0 defeat at Rotherham.
In a statement issued to BBC Surrey on Sunday, Machala thanked fans for their continued support and paid tribute to those who had tried to keep the club in the Football League.
Machala, who was replaced as the club's chairman in February, went on to update fans with the latest on the club's financial situation.
"As most people are aware, I have been working to try and secure investment into the club so as to secure the club's long-term future, regardless of whether the club was going to be in the Football League or the Football Conference," Machala's statement said.
"The relegation has simply made this requirement more urgent.
"The latest hope of a cash injection into the club failed last week.
"However, discussions are now being held with Shahid Azeem to allow him the majority of my shareholding in the club, provided that he can satisfy an immediate cash requirement and guarantee the club's future.
"I am currently awaiting proof of funds from Mr Azeem and provided that this is done on Monday, we hope to have a way forward for the club."