Hereford United: Squad 'in limbo' says Chris Carruthers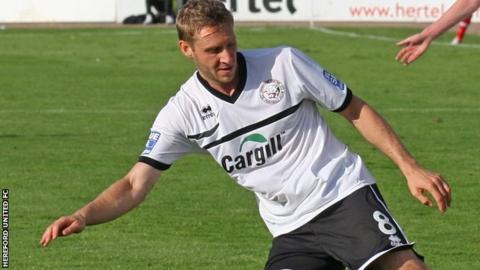 Hereford defender Chris Carruthers says the players are 'in limbo' after not being paid this month.
The future of the first-team squad was placed in doubt after the revelation that the players had been told by text that they would not be paid for April.
"To find out by text isn't great," he told BBC Hereford & Worcester.
"We're waiting to see if any investment comes in. But we're in limbo really. We don't know what's happening. It's a difficult situation."
Hereford have made light of their season-long financial problems to finish sixth in the Blue Square Bet Premier under manager Martin Foyle, whose own future is also uncertain.
Carruthers added: "Apart from not getting paid now, we've had troubles throughout the season when we've not had our full quota of money.
"With the PFA involved, I think we will get our money eventually. It's just frustrating not getting it when we're supposed to.
"You just need a little more honesty really. Being able to know a couple of weeks in advance might have been better."
Carruthers and his Hereford team-mate Luke Graham, a fully-qualified accountant, are at least better placed than most, having set up a business to help other footballers sort out their tax affairs.
"I'm fully qualified as an accountant, I've done my Uefa licence to be a football manager and am doing a degree at the moment," Graham told BBC Hereford & Worcester.
"I've always taken it up on myself to do other qualifications as it's so precarious from summer to summer.
"At League Two and Conference level you're at the lowest level of full-time players playing professional football in England.
"I got on board with Chris last year. It's gone well and I'm so grateful we've done as it's given us a bit of money to see us through these hard times."