Crawley Town chairman Vic Marley stands aside
Last updated on .From the section Football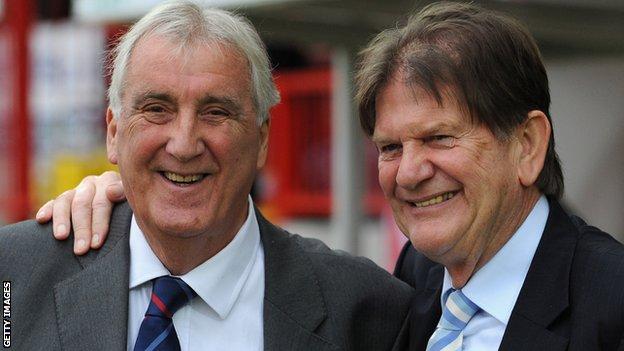 Crawley chairman Vic Marley is stepping down after six years in the role and will be replaced by Dave Pottinger.
Marley has seen the club rise from non-League to League One since becoming chairman in May 2007.
"Seeing our rise up the football pyramid has been immensely satisfying," Marley told the club website.
"The last six years have certainly been eventful. It has been an honour and a pleasure to be chairman during the most successful period in our history."
Marley first joined Crawley's board in 1999 when the club were in the Dr Martens League.
"Working full-time for the Crawley Town cause for the last 14 years has been personally worthwhile," Marley added.
"I have had the support of some very loyal and dedicated people who fought to preserve our status through some difficult times during the early days of my involvement with the club.
"I have enjoyed every minute of my time as chairman and for me the greatest satisfaction is seeing the club in a far better position than when I joined, with a dedicated management team looking to continue the progress we have made."
Pottinger, Marley's successor, has been a director at the Broadfield Stadium for the past three years.
"It is an honour and a privilege that Vic recommended me to the board for the job and I am delighted to accept," said Pottinger.
"The club is in a great position now, on and off the field, to really grow and establish itself at this level and perhaps push into the Championship.
"We have a great manager in Richie Barker and a really hard-working backroom team under chief executive Richard Low. Hopefully together we can enjoy more success."