Dagenham & Redbridge: Burnett admits mixed feelings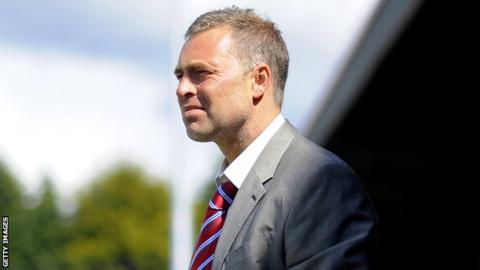 Dagenham & Redbridge interim manager Wayne Burnett says their League Two survival fight should not have gone down to the wire.
The Daggers stayed in the Football League despite a 1-0 defeat to York.
He told BBC London 94.9: "I have mixed feelings as I am delighted we have stayed up. I felt we should have been safe a lot longer before the last day.
"Over the last three or four games I have been really disappointed as we had lots of chances we haven't converted."
Burnett added: "I have expressed my feelings that we stayed up last year on 50 points with a far more experienced team than we have now."
Burnett took charge at Victoria Road at the end of February after John Still left to take over at Luton Town and admits the battle to stay in League Two has taken its toll.
He explained: "I have not slept. I was up at half-five on Saturday morning walking around.
"Things go through your mind and you look at who is playing who. It has been a real long four or five weeks.
"You take over from someone like John Still and it is difficult to fill his shoes. He will go down a legend at this club."
Burnett is now set for talks with the Daggers board over his future, with the 41-year-old keen to remain at the east London club.
"Everyone has been really supportive and the board have been brilliant," he said.
"We'll sit down and hopefully have a chat and see where we go from there.
"I have made it quite open and hopefully I will be here next year and we can do better than we have done in the last two seasons.
"Pre-season has been scheduled already and we'll be looking to bring one or two in.
"If it all works out like we hope for next season we might see a slightly different way of doing things."