Jamie Proctor: Crawley Town striker aims to come back stronger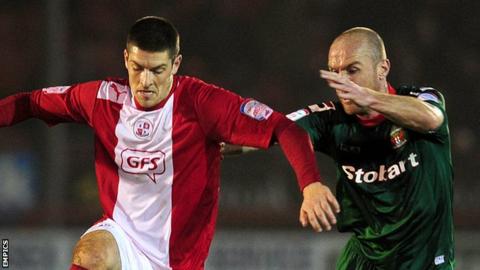 Crawley Town striker Jamie Proctor believes he will be in even sharper form for the club next season.
The 21-year-old scored seven goals in 18 appearances for the Reds after joining from Swansea in January.
He told BBC Sussex: "You can work on your fitness, speed and strength but the actual instinct of being in and around the box has taken me a while.
"I still find myself taking too many touches in the box instead of just one touch and having a shot."
He added: "Instinct is the hardest thing to get. That is obviously something that having a pre-season will definitely benefit me next year."
Former Preston trainee Proctor moved to Swansea last summer but never featured for the Premier League side.
He only played three games in 2012-13 before his move to West Sussex, which came during a loan spell at Shrewsbury.
"The move to Swansea didn't do me any favours," Proctor said.
"I didn't play any football at all and completely lost everything I had about myself.
"Coming here, playing and being an important part of the team, has made me feel wanted again. To be playing games and scoring goals is what I came here to do. It is a massive confidence boost for me."
Proctor finished the season with a brace in the Crawley's final League One game of the season, a 2-2 draw at home to relegated Hartlepool.
He says he has benefitted from playing alongside Paul Hayes, who joined the Reds on loan from Brentford in March.
"I had gone a few games without a goal and I'd been looking to get myself back in there so to get two is a bonus for me," he said.
"I was with Paul at Preston so I knew what he could do.
"He is a great player and for him to come in, put his arm around me and for me to learn from him was exactly what I needed.
"Before he came in I was playing every game by myself and there was a little bit pressure on me. After he came in it lifted that and the goals started to come.
"Playing up front on my own is a different role but when we go 4-4-2 it takes a bit of pressure off you and gives you a bit more freedom instead of doing the battling side of the game."