Scotland assistant Mark McGhee hints at Leigh Griffiths call-up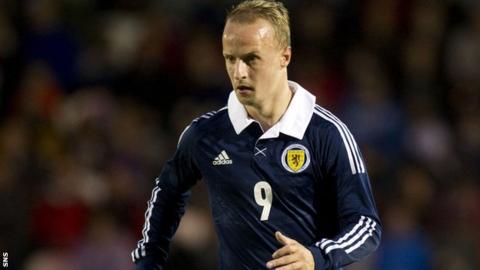 Scotland assistant boss Mark McGhee has hinted Leigh Griffiths could be included in the squad for the World cup qualifier against Croatia in June.
The Hibernian striker, on loan from Wolves, has scored 27 goals this season and has been capped at under-21 level.
Speaking to BBC Radio Scotland, McGhee said Griffiths is nearing selection by national coach Gordon Strachan.
"He's very, very close," said McGhee. " I think that Gordon will give him the opportunity, certainly in the squad."
Scotland are currently bottom of World Cup qualifying Group A with just two points from six matches, meaning they have already missed out on next summer's finals in Brazil.
Strachan's side have four fixtures left in the section, with the Euro 2016 qualification campaign beginning in the autumn of 2014.
And though McGhee believes there are no "big stars" in the current pool, he feels there are reasons for optimism.
"You need to speak to Gordon about what he thinks about this," he said on Sportsound. "But I think we have players who are improving.
"We have players who are getting more experience at a higher level, and we have a trickle of decent young players coming up.
"I think with the best of what we have fit, we can be competitive, but I think once you go down to the 17-20 age group in the squad, it starts to weaken and you become less competitive.
"We don't have the outstanding players in the squad - although we have one or two that are becoming outstanding players.
"I think they're an honest bunch, but they could all do more and give themselves the best possible chance."
McGhee is also hopeful the planned expansion of the European Championship finals from 16 to 24 teams could provide an opening for Scotland to restore some pride, having not reached a major finals since 1998.
"We're encouraged by the qualification process maybe changing for the next competition, which is positive for us," he explained.
"Over the next 18 months, there will be players who emerge, but regardless of that, we have to base our future on the collective effort.
"We have got to produce team performances and, if in that we have players who emerge who are top players, they'll maybe make the difference."