Lee Mansell backs Alan Knill for Torquay manager's job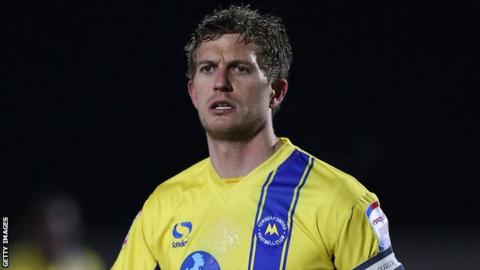 Torquay United captain Lee Mansell has backed Alan Knill to become the new manager of the Plainmoor club following Martin Ling's departure.
Knill while Ling and guided them to League Two safety.
"I think if it was to be Alan it would be a fantastic appointment for us," Mansell told BBC South West Sport.
"We know Alan, we know the way he likes to work and everyone enjoys the way he works," he added.
and in his absence the club lost five of their next six games before Knill took over.
And two wins and a draw in their final three games saw the Gulls stay up by two points.
"Everyone got on very well with him (Knill) and he brought us up when we were really low," said Mansell.
"He instilled a self belief in us, that was rocking, and got us to safety."
Mansell is one of only six Gulls players, along with goalkeeper Michael Poke, left-back Kevin Nicholson, midfielders Damon Lathrope and Nathan Craig, and winger Billy Bodin, who are contracted for next season.
The likes of top scorer Rene Howe, centre-backs Brian Saah and Aaron Downes, and forward Ryan Jarvis are all free agents.
And 30-year-old Mansell, who is the club's longest-serving player, says a decision on a new manager needs to be made quickly.
"At this moment in time the football club's got nobody in charge in terms of the playing side of things - that creates an instability itself," he said.
"I hope the club have someone in mind, but until the appointment's made, the club won't be stable.
"Those lads that are out of contract, for them it's going to be a very difficult period.
"It's really not a nice time for them. They'll have a lot of uncertainty over their heads."