Carlisle United: Peter Murphy exit 'unbelievably tough'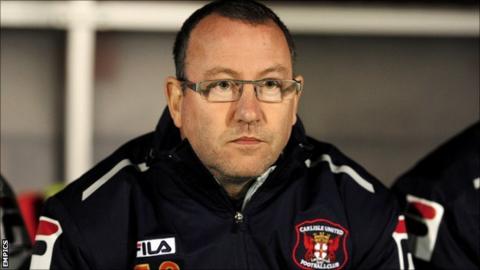 Carlisle United manager Greg Abbott has described his decision to release long-serving defender Peter Murphy as "unbelievably tough".
Murphy had been with the club since 2001, making more than 400 appearances.
Abbot told the club website: "Peter has been part of everything we've done, going back long before I came here.
"He's a real professional and it was very emotional to have to have that conversation with him. I did not find that easy at all."
Murphy, 32, was one of seven players released by the Cumbrians, while five others, including top scorer Lee Miller, have been offered new contracts.
"The players who have been offered contracts now have 30 days to consider their options before they make a response," said Abbott.
"That's only right and proper, and we obviously hope that all of them will decide to stay with us.
"We've seen what Lee [Miller] can do when he is fully fit and on top of his game and a full pre-season would give us that type of player as the focal point of our attack again.
"Overall, it has been a real drain on an emotional level," Abbott admitted.
"The fact is that we are dealing with such good people that it is shattering to have to deliver bad news.
"However, we have to dust ourselves down and move on. My staff and I have a number of games to attend this week as we start to finalise our plans for the squad next season.
"That work will go on until we have the pieces in place to give us the best chance of putting smiles back on faces next season."