Hartlepool United: Manager John Hughes expects changes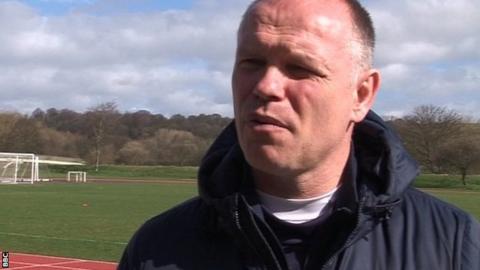 Manager John Hughes has begun the process of deciding which Hartlepool United players will be offered contracts for next season.
Pools were relegated despite an encouraging finish which saw them go four games unbeaten, culminating in a 2-2 draw at Crawley Town.
Hughes told BBC Tees the performance had impressed him.
"I'm looking at character, the culture of the club, for a winning mindset, and I saw that," he said.
"Given there is so much uncertainty about the future you can only commend their attitude.
"The fact is [former manager] Neale Cooper left a lot of good players here.
"Unfortunately the confidence wasn't there, so I tried to get into them mentally and forge a togetherness and spirit, and add a little bit of organisation.
"We're not a relegated team on the form we've shown since I came to the club, but unfortunately there was too much to do.
"Now we talk about where we want to go, draw up a strategy and hopefully my ideas will marry up with those of [chairman] Ken Hodcraft and [chief executive] Russ Green and the budget.
"The fact is finances are different in League Two and the supporters need to understand you can only get the players in that the budget allows."
Of the many players out of contract, wide midfielder Andy Monkhouse made a strong case for a new deal by scoring twice against Crawley.
Other regular first-teamers waiting to find out whether they will be offered new deals include Sam Collins, Neil Austin, Evan Horwood, James Poole, Ritchie Humphreys, and Nathan Luscombe.