Malawi return to play World Cup qualifiers at Kamuzu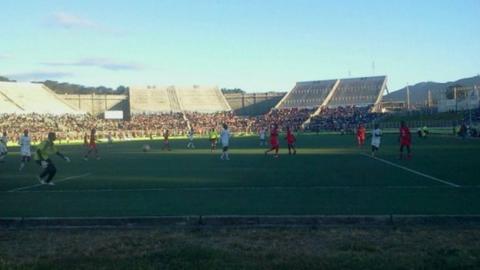 Fifa has given Malawi the all-clear to play their forthcoming 2014 World Cup qualifiers against Namibia and Kenya at the Kamuzu Stadium in Blantyre.
The Football Association of Malawi (Fam) were given the go ahead to use the venue by Fifa following a visit by an inspection team last week.
The government closed the stadium last August due safety and security fears.
Repairs have since been carried out at the stadium and it has hosted several club matches.
Malawi's interim coach Edington Ng'onamo had suggested that Fam ask Fifa if the Kamuzu Stadium could be re-opened for international games.
"In recent years Malawi has done well using the artificial turf at Kamuzu stadium and so we feel Malawi stand a better chance of winning against Namibia and Kenya in June if the games are played in Blantyre," he explained.
"Our players are more used to the artificial turf than any other pitch in the country and at the same time our opponents struggle at the Kamuzu Stadium due to the nature of the pitch.
"Technically I noted that Malawi struggled in their last home match in October last year at Civo Stadium against Ghana during the 2013 Africa Cup of Nations final qualification match. No wonder the Black Stars won the game."
Fam general secretary Suzgo Nyirenda explained the issues which forced the closure of the stadium had been taken care of by the Malawi government, which has cordoned off the affected stands and reduced its capacity further.
"Our top local sides Big Bullets and Mighty Wanderers have played at the Kamuzu Stadium since it reopened with no incidents," he explained.
"All we need now is to tighten safety and security during matches".
Of the 15 matches Malawi have played at Kamuzu Stadium since 2008, they have won 11 drawn twice and lost just twice.
The Flames, who only trail Nigeria on goal difference in Group F of the World Cup qualifiers, host Namibia on 5 June before taking on Kenya a week later in the race to reach Brazil in 2014.
Fam has also announced that Malawi will tune up for those World Cup qualifiers with a friendly against Zimbabwe at the Kamuzu Stadium on 25 May.