Norwich City's Cameron McGeehan makes point to Chelsea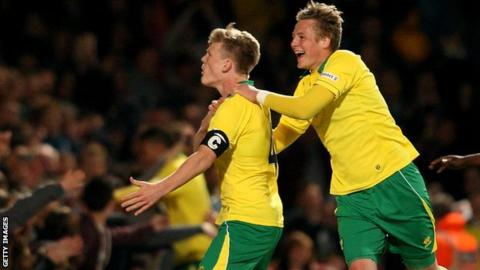 Norwich City Under-18s captain Cameron McGeehan wants to finish the job in the FA Youth Cup final against Chelsea, the club that released him two years ago.
The 18-year-old scored an injury-time penalty to give the young Canaries a vital 1-0 advantage.
"I played with pretty much all of the Chelsea side," he said.
"Technically they're very good players. Hopefully they'll do well, but we want to beat them in the second leg."
Midfielder McGeechan started his career at Fulham, but was bought by Chelsea for £80,000 as a 10-year-old, only to be released six years later.
"I came to Norwich. The people here are great and I felt like it was the right club for me. It's worked out well.
"Once the game starts you forget you're playing against your old mates. You just concentrate on the 11 players out there," he said.
McGeehan, whose football idol growing up was Blues midfielder Frank Lampard, showed some of the England player's calm temperament by converting from the spot in added time in front of 21,500 fans at Carrow Road.
"I've scored a few, but probably in front of 20 people, not 20,000.
"I tried to zone it out. I took myself back to the training ground, back to the park. I was concentrating on striking the ball as well as I could," he added.
"It was amazing. In front of 21,500 people - I can't believe how many people there were. It really spurred us on.
"It was amazing to get the result and give something back to them."
Norwich travel to Stamford Bridge for the second leg on Monday, 13 May.