Ebbsfleet United make payment to HMRC but still owe over £25,000
Last updated on .From the section Football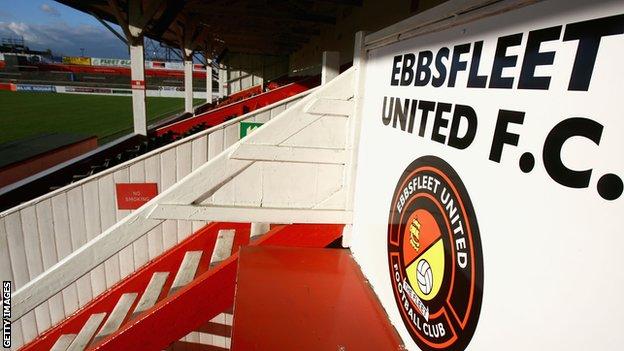 Ebbsfleet United have made a "substantial payment" to Her Majesty's Revenue & Customs but have confirmed they still owe in excess of £25,000.
PAYE payments to HMRC for March are almost cleared but PAYE and VAT payments for April remain outstanding.
A statement on the club website said the relegated side would remain in dialogue with HMRC.
The statement also added that there are currently two parties interested in investing in the Stonebridge Road side.
Last week, Fleet chairman Jessica McQueen appealed for donations from fans in order to keep the club going.
The Kent club's owners, the website MyFootballClub, have voted to relinquish their 75 per cent shareholding in the club to the Fleet Trust, the club's supporters trust and Phil Sonsara, Ebbsfleet's former chairman.
A statement on the club website, released by McQueen and Sonsara on Tuesday, said: "The club does have short-term cash problems and the most critical situation is that we get the club through to the financial year end, which is 31 May.
"A substantial payment was made to HMRC yesterday.
"At the time of writing the amount still owed is excess of £25,000. We have had a dialogue with HMRC and this will be ongoing to ensure the survival of the club.
"On the subject of potential investors we can confirm that there are two interested investors.
"It would be unfair to comment further at this stage as both offers have their merits and details are subject to confidentiality at this stage.
"Both offers include monies set aside to clear the current short-term liabilities that have received plenty of publicity.
"As and when things change substantially we will endeavour to update everyone associated with the club as quickly and accurately as possible."
Earlier this month, Ebbsfleet were the subject of a proposed takeover bid by Carlos Kabir Karani, who is involved in football in the Canary Islands and Spain.