Northampton Town boss Aidy Boothroyd draws on experience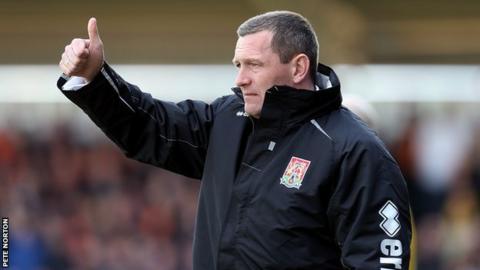 Northampton boss Aidy Boothroyd has said his experience with Watford showed that form will not dictate his side's success in the League Two play-offs.
Boothroyd won the Championship play-offs with the Hornets in 2006 after an end-of-season run of three wins in 10.
The Cobblers have won one in six ahead of Thursday's semi-final first leg against Cheltenham at Sixfields.
"Form can go one of two ways - we've won 11 of the last 12 at home," Boothroyd told BBC Radio Northampton.
"When we got promoted at Watford we lost to Millwall and Crystal Palace and drew with Hull. We lost to Leeds as well and we still went up, so it can go either way.
"It's about having all your players fit and making sure on the day the players perform as well as they can. I have a fair idea they will stand up and do what's planned."
Watford secured promotion to the Premier League seven years ago with a semi-final victory over Palace and then a 3-0 win against Leeds in the final.
And while Northampton's overall form has wavered, they go into this week's home leg having taken 53 of their 73 points on their own turf this season.
The Cobblers also have a wealth of experience to call upon, with Adebayo Akinfenwa, Clarke Carlisle, Luke Guttridge and Clive Platt having played large parts of their careers in higher divisions.
"This club has got a lot of players that if they are in the autumn of their career, they want to finish on a high," said Boothroyd.
"We haven't got any mercenaries here. We've got characters who are winners and want to get themselves a medal.
"I think with the experience and talent we've got as well as the energy there's a belief that this is what we want to do."