Celtic haven't switched off, says Tony Watt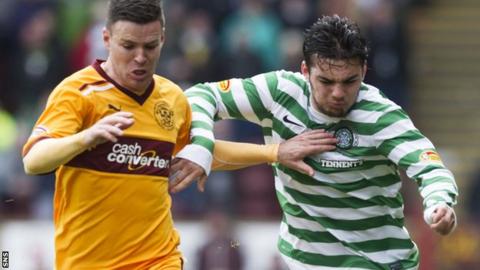 Celtic striker Tony Watt rejects suggestions that is an indication that the team have switched off since securing the Scottish title.
Watt was one of several fringe players given a chance at Fir Park.
"I am not going to relax," said the 19-year-old. "When I'm told I am playing, I am buzzing.
"Hopefully I can get a few games under my belt and make the squad for the Scottish Cup final."
Watt was pleased with his own performance against the side destined to finish second in the Scottish Premier League.
"I think I played well, did okay and did myself justice," he said while stressing that there were others in the Celtic team out to impress.
"There's people like me who have not played much in the second half of the season and I want to go out and show people how I can play and what I can do.
"We had a few chances and, if you don't take your chances, you don't win and it was just one of those days."
Watt's strike in the Champions League group victory over Barcelona has been chosen by Celtic supporters as their goal of the season.
The Scotland Under-21 striker admitted it was the significance of the goal rather than its quality that had counted and he was disappointed that his season had not kicked on from there.
"The first half of the season, I played a lot of games, but the second half I've only played two or three, so it's not been ideal for me as I need to get more games under my belt," said Watt.
"A lot of people came back fit and it has been harder to get opportunities.
"My game has improved and I'm happy with it.
"It will be good to get to the end of the season and hopefully kick on next season."