Ivory Coast's Wilfried Bony would relish a move to England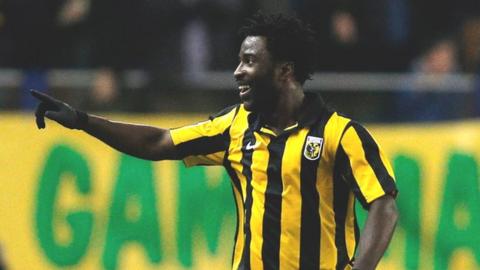 Ivory Coast and Vitesse Arnhem striker Wilfried Bony has admitted that he would be interested in a move to the English Premier League.
The 24-year-old is currently the top scorer in the Dutch Eredivisie with 31 goals only Lionel Messi has more goals in a major European league this season.
Chelsea and West Ham are among the clubs that have been linked with Bony.
"The transfer market has not started yet. There's nothing concrete," he told BBC Sport.
"There is a lot of talk about me in the newspapers but I'm still focused on the last two games of the season with Vitesse and at the end of the season we will see.
"I've heard the rumours [about Chelsea being interested], like you've heard about that. There's nothing concrete. We'll see at the end of the season."
Bony feels a move to England would suit him.
"I'm very interested in the Premier League and the atmosphere in England, it's a wonderful league and we will see what happens," he explained.
"For me the Premier League is the top league [in Europe], but the Bundesliga is also good - France, Italy and Spain they're all good too.
"England I think would be perfect.
"It would be great for me [to move to a club in the Champions League]. It's the only competition I haven't played in yet."
Bony started his career with the Ivory Coast side Issia Wazi and had a trial with Liverpool in 2007 before moving to Sparta Prague.
In January 2011 he made the move to Vitesse and has since scored over 50 goals for the club in just over 60 appearances.
The striker has also found the net in the last two Africa Cup of Nations tournaments and now has 18 caps for Ivory Coast.
And he is hoping his form this season can help him to establish himself in the Elephants starting XI leading up to the World Cup in Brazil.
In June the Elephants travel to play the Gambia and then Tanzania in 2014 World Cup qualifiers.
They are currently one point ahead of Tanzania in Group C with three matches left to play.
"There's a big competition in Ivory Coast between the strikers, so it's good for me that I'm having a good season to go one step further in my career," he said.
"It gives you confidence to work more, to reach the first XI but you never know."