Andy Awford turns down Portsmouth assistant manager role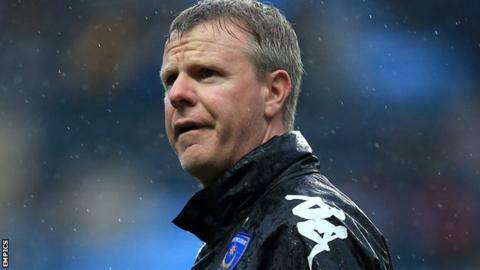 Andy Awford has turned down the opportunity to become assistant manager at Portsmouth and will instead revert to his former role as academy chief.
The club appointed Guy Whittingham as their permanent boss in April after he spent six months as caretaker manager.
Whittingham had hoped to have Awford as his number two, but admitted last week that the former Pompey defender wanted to return to his previous position.
The club will now continue their search for an assistant for Whittingham.
Awford, 40, made over 300 appearances for Portsmouth during his playing career.
He was appointed to the role of Academy manager in 2011, but was promoted to acting assistant manager when Whittingham was made caretaker boss following Michael Appleton's move to Blackburn Rovers last November.
However, despite being offered the job on a permanent basis, he will now continue to work with the academy, which in recent years has produced players such as Jack Maloney, Ashley Harris, Dan Butler and Adam Webster for the first team.
"It was a really tough decision," Awford told the club's website. "But a lot of hard work has gone into the academy over the last two-and-a-half years and that's not something I want to give up.
"I'm really proud of what we've achieved and I want to see the job through. The academy staff deserve enormous credit for their fantastic work over the past couple of seasons.
"I understand that some of the young lads have played out of necessity this year. However, they've not let anyone down and have surpassed our expectations. From an academy point of view, it's been a very successful season.
"I've loved working with the first team and it was a big learning curve for me to deal with seasoned professionals.
"It was an exciting venture and one I enjoyed thoroughly - especially towards the end of the season when we were more settled.
"But now there's an opportunity to rebuild this football club and I feel proud and privileged to be a part of that.
"With Guy in charge of the first team and me running the academy, we can work together and grow at the same pace."