Ian Holloway: Crystal Palace will be good enough to make play-offs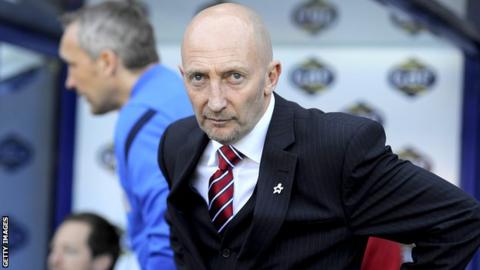 Crystal Palace boss Ian Holloway believes his side will make the play-offs after their 0-0 draw at Millwall.
Palace are without a win in seven but are two points inside the play-offs.
He told BBC Radio 5 live: "People can talk about stats but we are not the only team to not be winning. Some of them are much worse than us.
"We are still up there with that sort of stat. You have not got to be a genius to work out that if we play like that, it is not long in coming."
He added: "All I can say is that they are giving me everything. That is all you can ask.
"I believe we will be good enough to get there."
The Eagles, who have drawn their last three games, are currently two points ahead of sixth-placed Bolton Wanderers and seventh-placed Nottingham Forest in the Championship table.
Palace could have ensured a place in the play-offs with victory at Millwall on Tuesday night.
Holloway added: "The last point you need is always the hardest.
"I have been there before but these lads haven't. They are buoyed as they thought they played well.
"It was a terrific away performance. We looked a unit, looked solid and the two wide men were a threat. Unfortunately we didn't quite get that goal.
"We'd have love to have done it but Millwall put up a stern fight. That was as good a game for this time of the season as I think you'll see.
"We both needed something and I think both sets of players showed that.
"I can't ask for much more than a ball going in their net."
Crystal Palace entertain Peterborough, who need to win to guarantee their survival, on the last day of the season.