Jose Mourinho: Is the Special One set to rekindle Chelsea love affair?

Last updated on .From the section Football228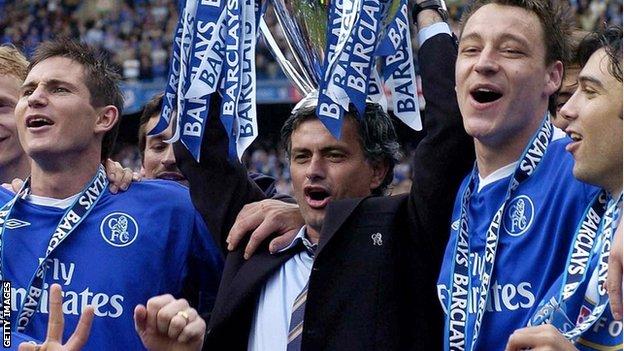 This time there was to be no last-minute winner, no grass stains on that ubiquitous designer suit.
For Jose Mourinho, the final whistle at the Bernabeu on Tuesday instead prompted a warm embrace with his Borussia Dortmund counterpart Jurgen Klopp and a slow walk down the tunnel to the dressing room.
The disappointment of their Champions League exit was clear, but within minutes Mourinho was back on the front foot and giving the strongest indication yet that he wants to return to England in general and to Stamford Bridge in particular.
Every word was carefully chosen, every inference deliberate. In one answer he reminded Real of what they will lose if he, as seems very likely, decides to leave this summer.
Mourinho was, after all, the man who led them to La Liga title glory last season, breaking, albeit briefly, the dominance of Barcelona.
There was also a gentle nudge and a wink to long-term admirers Paris Saint-Germain, a suggestion that they had better be quick if they are going to make him an offer. But it was the reminder of that London love affair that set tongues wagging and in so doing put pressure on Chelsea owner Roman Abramovich to bring him home.
"I know in England I am loved - by the fans, by the media that treat me fairly: criticising me when I deserve it but also giving me credit where I deserve it," said the Portuguese. "I know I'm loved by some clubs, especially one. In Spain, it's a big difference - some people hate me."
For some time, long before this result, it has been clear that days of the Real-Mourinho relationship are numbered.
The well-documented problems with leading figures, notably club captain and talisman Iker Casillas, in the dressing room have chipped away at his reputation within the corridors of power, but the realisation that he would not be the man to end Real's 11-year wait for the European Cup has opened the floodgates.
There is always a rationale behind Mourinho's every utterance, public or private. His comments on Tuesday were a culmination of a typically capricious, flirtatious approach that has built steadily on the back of recent appearances in London and coincidental meetings with TV crews and paparazzi.
He bought a London home last year, which his wife and children plan to move into this summer. News that Mourinho's daughter has enrolled in a London fine arts school, and that his son is ready to continue his education away from Spain, have been made public, discreetly but deliberately.
Mourinho's agent, Jorge Mendes, and his inner circle of confidants have been on-message, putting out the suggestion that a return to Chelsea is very much on the cards - that contact has been made and that a deal has been agreed in principle.
The passing of time has done little to dim the mutual attraction between Chelsea fans and a manager who delivered their first two league titles in half a century.
Memories of the trophies, the medals being thrown into the crowd, the thrill of being top dogs in England and the years when it seemed, to quote former chief executive Peter Kenyon, the world really might be painted blue, remain as vivid as ever.
Amid the dissatisfaction that has engulfed the club during Rafael Benitez's tenure, old passions have been stirred, while memories of the differences, the difficulties and the discord have largely been forgotten.
Mourinho left Chelsea in September 2007 after more than a year of power struggles. His relationship with Roman Abramovich was blighted by differences of opinion, public wrangles and disagreements.
There was the time when Mourinho raised five fingers to the directors' box to signify the number of trophies he had won. Power games, battles and rows over interference were commonplace.
So, are Chelsea remembering all the reasons they fell in love, while forgetting all the reasons why, by the end, they were sick of the sight of each other?
The relationship between Mourinho and Abramovich has thawed significantly with the passage of time, to the point where those on both sides now speak of extended text conversations and a warm friendship. And yet the question over whether the two can work together remains unanswered - it's all down to control.
Mourinho's inner circle is already discussing a wish list that includes Atletico Madrid forward Radamel Falcao, Dortmund's Robert Lewandowski and Porto's Joao Moutinho. And yet there are those within the corridors of power at Stamford Bridge that cannot imagine a day when Abramovich will ever cede control.
The transfer budget needed to reshape the Chelsea team in Mourinho's own image would be eye-watering and how would that sit with Abramovich's trusted lieutenant Michael Emenalo, the club's technical director?
Many questions remain unanswered, many issues unresolved - but a face-to-face meeting between the Mourinho and Abramovich would certainly be a battle of wills and personalities.
Nothing would be guaranteed as the terms of any potential contract were being discussed and guarantees for control sought. That is to say nothing of the cost of employing, and even sacking, Mourinho for a second time.
And yet the Chelsea dressing room is already discussing the return of a man many of the players feel was the single biggest influence of their career.
"Everyone at Chelsea cannot wait for the return of Mourinho," Branislav Ivanovic said this week. "The players have had no confirmation that he is returning, but we all want that because he is one of the best coaches in the world."
Frank Lampard's future would be in the blue of Chelsea were Mourinho to return, and John Terry might also find himself back in favour. The questions are endless. One issue that remains outstanding, though, is whether Chelsea will be playing Champions League football next season.
The coming weeks and months will provide the answers and, whatever happens, no shortage of drama.
Attempting to predict the outcome is a dangerous game, of course, but one thing history has shown is that when the Special One sets his heart on something, more often than not, he gets it.