Nacho Novo would be welcome at Rangers, says Lee McCulloch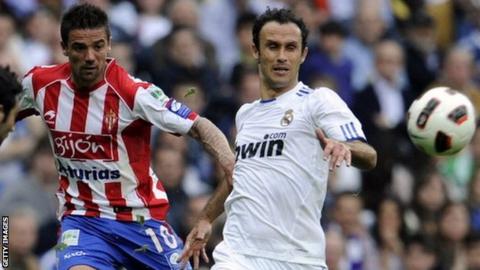 Rangers captain Lee McCulloch would love the chance to welcome striker Nacho Novo back to Ibrox this summer.
Novo has expressed a desire to return when his contract with Huesca in his native Spain expires.
"What Nacho has done for the club, the type of character Nacho is, his personality, everything about him - it would be great to have him back.
"He is a really passionate Rangers fan and player and I think it would give the place a lift if Nacho came back."
McCulloch suggested that the 34-year-old, who ended a six-year spell with Rangers in 2010 and is now playing in the Spanish second tier, is not the only veteran who is itching to return as Rangers aim to win Division Two next season.
"There are more than Nacho who would possibly like to come back," said the 34-year-old who has led them to the Division Three title.
"You've got Kenny Miller and Kris Boyd and people like that and it would be good to get some of the old guns back."
A transfer embargo as a result of the club's financial problems means Rangers must wait until 1 September to register free agents, but manager Ally McCoist has already identified a number of targets.
McCulloch, penned a new deal in October that keeps him at Ibrox until 2015, acknowledges that reinforcements are needed.
"I think the young players will show they are good enough to get the chance again next season, but the players know themselves that new faces need to come in," said the versatile former Scotland midfielder.
"If there are new players coming in to help the young boys and myself and everybody else then that can only be positive for the club."
While many top earners left Ibrox, McCulloch made the decision to remain at the Glasgow club after administration led to Rangers exiting the Scottish Premier League.
"You see the support from the fans, you see the manager take the reins and, as an experienced player, you want to try to help him and the club and the fans," he said.
"I don't think there have been any regrets. I'm actually delighted that I stayed."
McCulloch will lift the Division Three trophy in front of a sell-out crowd on Saturday as Berwick Rangers visit Glasgow and he has no thoughts of leaving Ibrox.
"I've got two years left, which is a very long time in football," he said.
"It's the old cliche, I can only take each game as it comes, but I definitely want to be here for the rest of my career."