Joey Barton: QPR midfielder could be very useful - Fernandes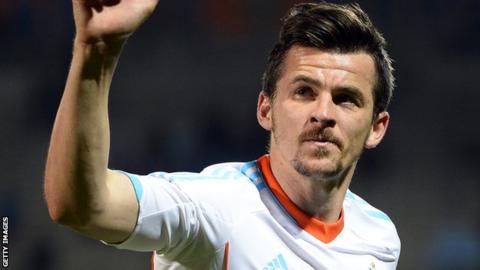 QPR chairman Tony Fernandes insists midfielder Joey Barton could still be a "very useful" player for the club in the Championship next season.
Barton, who criticised QPR's players after relegation, wants his Marseille loan stay to become permanent.
But Fernandes says no deal is in place for the 30-year-old to leave.
"If Joey and Marseille want (the transfer), then we will talk. However, he is a QPR player, and is contracted to QPR," he said on QPR Player.
"He helped Newcastle out (of the Championship). Some would say we lacked his fighting spirit in the midfield.
"Marseille have got to put an offer in. Joey is under contract and Joey would be a very useful player for Queens Park Rangers.
"That has to be a financial deal which would have to be worked out if he wants to go to Marseille, but as far as I am concerned he is a QPR player and in the summer will come back."
Barton moved to France in August after being given a 12-match ban for a red card in QPR's 3-2 defeat by Manchester City on the final day of last season.
The Hoops were relegated with three games to spare after a 0-0 draw with Reading, who went down with them, at the Madejski Stadium on Sunday.
Manager Harry Redknapp is set to remain in charge at Loftus Road next season, despite failing to guide the club to safety after taking over from Mark Hughes last November.
And Malaysian businessman Fernandes remains optimistic the west London club will have a squad capable of mounting a sustained promotion challenge.
He said: "There are many players we want to keep, some players we think don't want to stay and some players who are going to move on, but it is not insurmountable.
"I don't think we are going to be in a bad position from that, we will come out okay. We are in a position now we can trade.
"We inherited a club which was in pretty poor shape, no training ground, a stadium which is clearly too small and a squad which really was not up to the Premier League.
"I don't want to say it was anarchy and that just anyone came (here).
"We did not spend a lot in terms of transfer fees, which everyone fails to look at, apart from in the last transfer window when we bought (Loic) Remy and (Christopher) Samba.
"There is a wage we are comfortable with now, how long we sign a player for and the wages we are looking at, that we have cleared up over the last few months."