Gordon Strachan - the Team Talk XI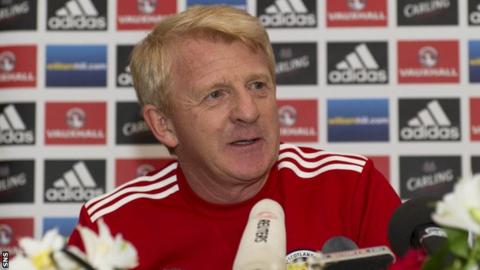 Scotland manager Gordon Strachan looks back over his career and picks his Team Talk XI and the manager that influenced his career.
Goalkeeper - Steve Ogrizovic
Steve was an incredible servant for Coventry. It was all at the top level. He saved them on many occasions from relegation. He was incredibly brave and he helped me become a better manager.
Right back - Stuart Kennedy
We had a great relationship together and we worked well. He helped me become a better player and hopefully I helped him to be a good right-back.
In his mind, he was the best right-back the world has ever seen, so I have to take a bit of credit for making him the best right-back ever. He worked hard, he had this mindset that nobody could beat him. If somebody did beat him, it would be the fault of nature that he couldn't deal with, it was an act of God.
Central defence - Willie Miller and Paul McGrath
Willie was the best penalty box defender in the world at one point. He kept his back four close to him. He could deal with anything. He was a decent footballer who started life as a striker. He had a great mentality and was a great captain.
Paul was truly incredible - he could play midfield. He was a magnificent centre-half. He could leap, he could pass, he could run - he had everything. A special man and such a lovely fellow.
Left-back - Danny McGrain
Danny was the best Scotland ever had, you could play him at right-back or left-back. He was a phenomenal man, a machine.
At no point during the game did you think he was tired. He would get forward, although he didn't score many goals. He got into lovely positions, but he panicked a bit. When he hit you, you knew you were hit.
I just thought he was a decent bloke who had time for everybody. He made it easier for people like myself coming in. Always polite, not over-friendly. He just did enough to make you welcome.
Left midfield - Davie Cooper
I played against Davie when he was at Rangers and I played with him at Scotland. He had incredible skill, but he didn't have to run because his ability was so good.
He was a magician. He was a bit like John Barnes. People would push him on to his right and he would somehow get it back on to his left. He didn't need a right foot. His left could do things as if it was on his right. It made no difference to Davie.
Midfield - Bryan Robson
He was the best all-round player I have ever seen. He could play anywhere. I could pick him in most of the positions in this team and he would be as good as anybody.
He could do everything - goals, tackles, headers, social convener - and he was a great bloke. He always looked after his players as a captain and I can't speak highly enough about him. If you were lazy, Bryan would sort you out.
Midfield - Gary McAllister
A wonderfully, elegant, un-Scots like footballer. He should have been a Spaniard or an Italian. I think he did think he was Italian for a while with all the gear he used to wear. It looked good on models but not so good on him.
He was a wonderful footballer. He could hit a ball 50 or 60 yards and score great goals. He was harder than people thought. He could put his foot in and take a kick. He very rarely got injured.
Right midfield - Peter Weir
The best two-footed player I ever played with. I saw him put in the performance of a lifetime against Ipswich and he destroyed them. He went inside and hit a ball in the back of the net. He went outside of a full-back and hit the ball in the back of the net. Right foot, left foot. He was a wonderful player.
He was a record transfer at the time for Aberdeen, but he was an unassuming fellow. He had a determination about him which went through the whole Aberdeen side.
Forward - Kenny Dalglish
Probably the best Scottish player ever. He's a great man, misunderstood at times, but a wonderful, wonderful footballer who was, in his day, world class.
He wasn't the quickest, that was the only thing he didn't have. He made up for it with his body strength and his big backside - that was a weapon and a half.
Forward - Mark Hughes
When you look at the teams he's played for - Manchester United, Barcelona, Bayern Munich, Chelsea and even when he went to Southampton - he was still a top player.
He could score any time. If you saw the ball being played up to him, you knew you had to get round him, but the ball stayed with him.
Manager - Sir Alex Ferguson
He's the best manager ever. I don't know how many titles he's won in England, it's phenomenal. It's not just for Manchester United. Look at St Mirren and what he did there. It was their best team ever as a group. There's no doubt about the team he created at Aberdeen, it's their best ever.
He's done it at three places, which is not a fluke. You can do it once. Brian Clough did it twice. I don't see anyone doing it three times.