'Monster' comment not critical of Celtic, says Kenny Shiels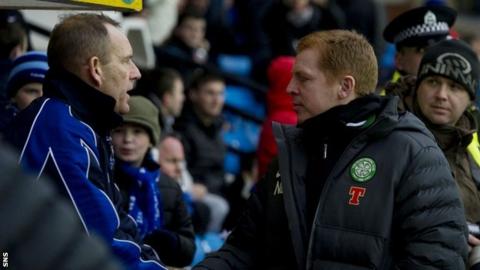 Kilmarnock's Kenny Shiels has held clear the air talks with the Scottish FA after saying Celtic had "massive influence" over disciplinary hearings.
The manager was concerned that comments made on BBC Radio Scotland were taken out of context by a newspaper.
Shiels had also described Celtic as the "monsters of the Scottish game".
But he returned to BBC Sportsound to explain that he was referring to the club's ability to afford, among other things, expensive legal representation.
"There was an inference there that they were able to manipulate the judicial panel, but that wasn't the meaning of it at all," said Shiels.
Shiels had made his original comments when explaining why he thought .
"In comparison to the rest, I was using that terminology of monster and surely everyone understands what the inference was - the size of the club," he said.
"They are a monster in comparison to the likes of the other clubs and we were speaking about the advantages they have and Neil would have as a manager.
"What I was saying about that was that they can afford a really good training ground and sports science and all of those things and they also have the weight of QCs to go and represent them at judicial panels.
"I am not criticising Celtic for that because that's only natural that you avail of that facility that you have."
After seeing the newspaper headline, Shiels had telephoned SFA compliance officer Vincent Lunny, who has the power to discipline managers should their words be deemed to have brought the game into disrepute.
"Vincent understands what context it was said in and that words can be taken the wrong way," said the Northern Irishman.
"Hopefully that will clear the air. I don't want to be critical of Celtic. That's not what I'm about."
However, Shiels vowed not to be drawn into commenting about the wider issues of the game during future media interviews.
"I've had it up to here," he said. "They are watching everything I say and I have to be very careful and try to stay below the radar.
"From now on, I'm not going to answer questions on anyone else, opponents.
"I'm just going to speak about myself and my own club."