Sheikh Salman bin Ibrahim al-Khalifa is new Asian president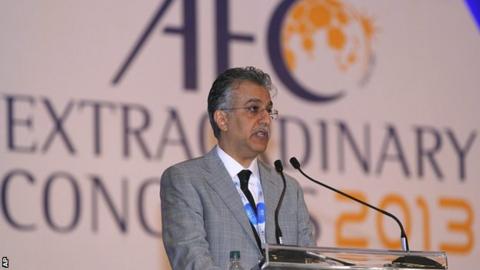 Sheikh Salman bin Ibrahim al-Khalifa has been named Asian Football Confederation's new president, replacing Mohamed Bin Hammam.
The Bahraini won 33 of the 46 votes in Malaysia to beat rivals Yousuf Al Serkal of the United Arab Emirates and Thailand's Worawi Makudi.
Sheikh Salman also claimed a vacant seat on Fifa's executive committee.
The 47-year-old royal saw off the challenge of Qatar's 2022 World Cup organising chief Hassan Al Thawadi.
"We need complete reforms," said Sheikh Salman. "What we need is an AFC where decision makers are accountable."
Bin Hammam was banned for life by Fifa in 2011 amid allegations of trying to buy votes. The former Fifa presidential candidate eventually retired from football last July
Sheikh Salman takes over the last 20 months of Bin Hammam's term as AFC president, with the next election in January 2015.
Before voting began, Fifa president Sepp Blatter said Asian football still had to work to heal its divisions and rebuild its reputation.
"I would identify this restart as an intermediary restart," he said. "Because then the right start will be in two years in 2015 and now you will have two more years to put your house in such an order."