Bankruptcy process begins against Hearts' creditor Ukio Bankas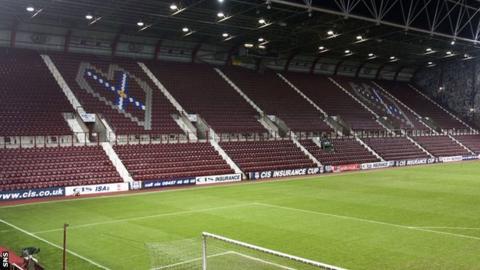 A Lithuanian court has ruled that bankruptcy proceedings should commence against Hearts' main creditor, Ukio Bankas, BBC Scotland has learned.
Any party wishing to appeal against the decision of the hearing in the Kaunas court has 10 days to do so.
Hearts owe the bank around £15m and the debt could now be called in.
The Edinburgh club are about £25m in debt, with £15m of that secured by Tynecastle Stadium and now controlled by the administrators of Ukio Bankas.
The Lithuanian bank was placed in temporary administration earlier this year with liabilities close to £400m and all its branches have now closed.
Ukio Bankas's parent company is UBIG, the investment company controlled by Hearts owner Vladimir Romanov.
In late February, UBIG's entire board resigned, but Romanov remains the major shareholder in the company, which Hearts also owe £10m.
Football finance expert Neil Patey has warned that the bank's administrators will now assess how to get the greatest return from those who owe Ukio Bankas money.
He told BBC Scotland: "I think it would be fair to assume that the administrator will not have any strong loyalty to Scottish football.
"His job is to maximise the income for the creditors of the bank.
"So it will come down to a hard-nosed decision as to the value of Tynecastle and selling it on a break-up basis or could he get more value from a consortium willing to buy out the majority shareholding of the club."
Hearts manager Gary Locke insisted he had heard nothing of the possibility of the club going into administration, should events in Lithuania force such an eventuality.
"I've heard nothing at all," he said. "I'm here to concentrate on the football side of the club.
"We all know that the club is still in a precarious position.
"It might be turmoil away from the club, but there's no turmoil on the training pitch."
Meanwhile, Hearts have paid the first instalment of a £1.5m bill due to HM Revenue & Customs. The club agreed a deal in December that the figure would be paid over a three-year period.