Ed Upson: Yeovil Town midfielder targets Wembley debut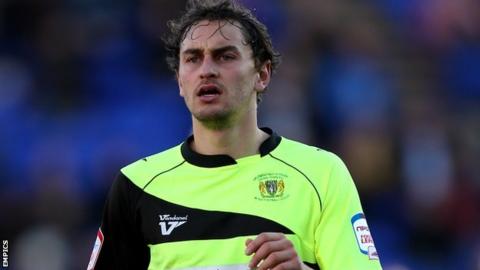 Yeovil midfielder Ed Upson says the prospect of playing at Wembley will give him an incentive to perform to his best in the League One play-offs.
The Glovers will face Sheffield United over two legs in the semi-finals on Friday and Monday.
"It's the opportunity to play there, which is something I haven't done," 23-year-old Upson told BBC Somerset.
"There's a few pictures of Wembley stuck up around the place as a bit of an incentive and inspiration"
He added: "If we could get there it would be unbelievable. We know we've got the two biggest games of our lives coming up."
Should Yeovil beat the Blades they will set up a clash with either Brentford or Swindon.
The Glovers secured fourth place in the standings - their highest ever finish - and had a three-point advantage over their semi-final opponents.
"We know all about them and what they're like," continued Upson. "If we can match them and bring them back here, we know what we're like on our home turf.
"I think we're all really positive about the game. The atmosphere up there is going to be unbelievable."
Upson, a former Ipswich trainee, has spent three seasons with the Glovers and has yet to be involved in a play-off campaign.
And he says he has been seeking advice from the more experienced members of the squad.
"They've explained how big the game is," he added. "You can pick up different things from different people and get some good experience.
"Hates [striker James Hayter] is my room-mate so he always tells me about the time he scored the winning goal [for Doncaster against Leeds in 2008].
"Now I want to score the winner so I can get him back."