Player exodus to Congo worries Ghanaian fans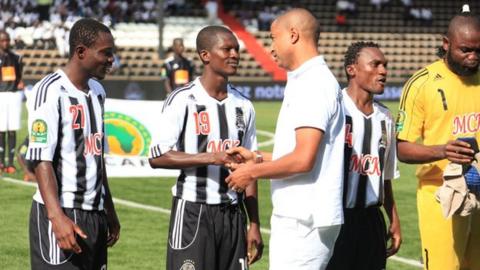 It is not often that you hear of a country's football fans being worried at the prospect of their own players heading to a foreign country to advance their careers.
But Ghanaian fans are concerned after five of their top players transferred to Democratic Republic of Congo giants TP Mazembe.
Defenders Daniel Nii Adjei, Yaw Frimpong, Richard Kissi Boateng midfielder Gladson Awako and forward Solomon Asante all moved at the start of the season.
"People think that maybe it's a sign of how the Ghanaian football league has fallen that we can have Ghanaian players going to play in Congo," said BBC Sport's Michael Oti Adjei.
It may sound like a harsh verdict by Ghanaian fans. But maybe they have a valid fear that other African clubs are overtaking the likes of Ghana's Accra Hearts of Oak and Asante Kotoko.
"People are divided in opinion. Some think that those players are not in Congo for sporting reasons, but for money," added Oti Adjei.
"However, clubs in Ghana don't pay players that well so who wouldn't want to leave when a foreign club is offering you more money?"
In a sporting context, Ghana and war-torn Congo are miles apart in their football - they are separated by 63 places on the April Fifa rankings.
While Ghana's Black Stars have twice been to the World Cup since 2006, with many of their players playing in Europe's elite leagues, Congo has qualified for the competition only once, in 1974 when they were called Zaire.
In that appearance they set an unwanted record as they feel to the heaviest defeat in at a World Cup finals - a 9-0 hammering by Yugoslavia.
Yet four-time African champions TP Mazembe, the first African team to play in the finals of the World club championships in 2010, are in a healthier state than most clubs in Ghana.
Based in the mineral-rich Katanga province, the club has their own stadium, two aeroplanes, a gymnasium and clinic.
They are bankrolled by one of Africa's top businessmen, Moise Katumbi, who is also governor of the region.
The Ghanaian players know that their move to Congo has divided opinion back home but they are loving the Congolese adventure.
Defender Richard Kissi Boateng told BBC Sport: "Joining TP Mazembe was the right move. As you can see, they have a lot of influence on African football.
"In life you have to progress. We joined them so that we can make a name in African football before moving on.
"Everything is fantastic here. The supporters are always behind the team and even the facilities are top class compared to other foreign clubs."
Boateng, 24, is a member of the Black Stars and played his club football for Liberty Professionals, Berekum Chelsea of Ghana and Libya's Al-Ittihad before joining Mazembe.
And he thinks football in Congo is advanced compared to the standard in Ghana.
"We came here to play football and improve. I experienced five years playing with Liberty, moved to Libya and came back to Ghana," he said.
"Sometimes you need to step ahead and go and face challenges somewhere.
"There are a lot of big players at TP from big countries. To judge yourself as a big player, you have to mingle with the best on the continent."
Mazembe have players from Zambia, Malawi, Tanzania, Ivory Coast, Uganda, Tanzania, Senegal and in the last two years, the club has even recruited from Zimbabwe, Brazil and Cameroon.
"I am not here because of the money. In life, if you don't face challenges, you can't judge yourself against anything," Boateng continued.
And he revealed that Mazembe's record of twice representing Africa at the World club championship was a contributing factor in his decision to join them.
"Some of the big players in Europe have never played at that level," he said.
Boateng's story is similar to striker Solomon Asante, who is also a member of the Black Stars and he says that "playing with very good players with different nationalities gives me an opportunity to work very hard".
But he also admitted: "In football, money plays part but a club has also to be good. So yes, money played a part in my move."