Aldershot Town: Relegated club goes into administration
Last updated on .From the section Football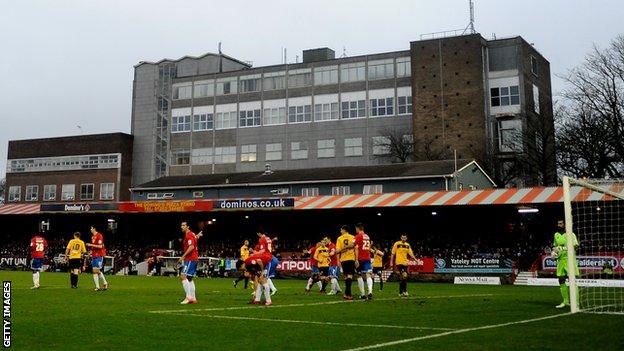 Aldershot Town have gone into administration, just five days after defeat by Rotherham confirmed their relegation from the Football League.
Quantuma Restructuring was formally appointed as administrator of the Hampshire club on Thursday.
A press release stated that Quantuma was "currently reviewing the club's financial affairs".
The club confirmed on Tuesday evening that they were seeking restructuring advice following a board meeting.
Club chairman Shahid Azeem had been in talks with owner and majority shareholder Kris Machala over acquiring his stake in the club, but a potential deal stalled after the latter demanded proof of funds.
Meanwhile, Andrew Mills resigned as chief executive on Wednesday afternoon following the failure to pay players, saying he had been placed in an "untenable position".
Papers were filed on Thursday morning by Aldershot's secured creditor - the estate of the late John McGinty - on behalf of the board of directors.
Michael McGinty, the son of John McGinty, the club's former chairman who died in August 2009, is a former director at the EBB Stadium.
"We really feel we have no alternative but to agree to the decision of the board of directors," McGinty told BBC Surrey.
"They are in possession of the full facts of what is going on at the club and I trust in them to give me the correct information.
"It is clearly a business decision which is based on the need for the club to do the right thing by the law and for the club's survival."
Last week, the club's supporters called a meeting with the board of directors to discuss Aldershot's financial situation.
Azeem, who replaced Machala as chairman in February, said he would not allow the club to go into administration, but director Tony Knights admitted that the club had been "haemorrhaging money".
Aldershot Town were formed in 1992 after the old Aldershot FC, founded in 1926, resigned from the League and were wound up in the High Court.
"I would hate to see the end of the club and I don't think that will be happening," McGinty added.
"The fans and all the people who have been involved in getting the club where it is have done their utmost.
"It would be a betrayal if all of us that can in any way influence things don't do our best to make sure that legacy continues."