Dundee United: Johnny Russell close to making comeback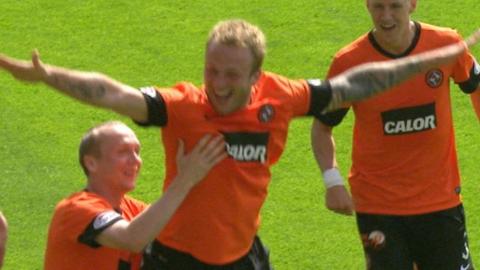 Dundee United forward Johnny Russell has returned to training and could be in consideration for Saturday match against St Johnstone.
But assistant manager Simon Donnelly told BBC Scotland: "We'll assess him and see how he gets through training.
"I know he's keen to be involved in some way or other on Saturday, but we'll obviously have to take a wee bit of caution."
With 20 goals this season, Russell is United's top scorer.
"The positive for us is Johnny Russell is back and trained on Tuesday," added Donnelly.
"He felt it a little bit and I think that's going to be the case for Johnny coming back, I don't think he's going to get into it totally pain free.
"He certainly looked sharp in training on Tuesday, he trained and did everything the rest of the boys did.
"I know he's been working hard with Jeff the physio, so I think he's a naturally fit lad and he's raring to go.
"I spoke to him the other day, he's dying to be involved with three games left, but we don't want to take any unnecessary risks."