FA Vase: Spennymoor keen to uphold Northern League tradition
Last updated on .From the section National League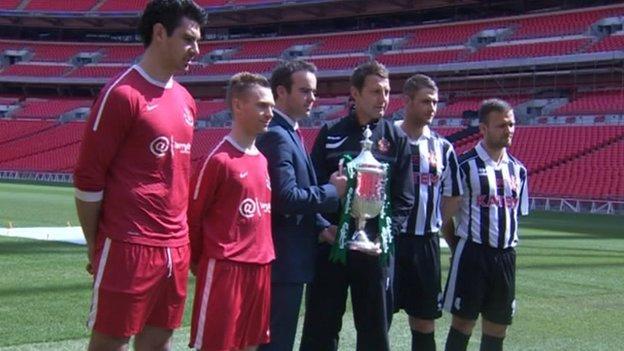 Not since England's elite made the European Cup their own in the late 1970s and early 1980s has a competition been so dominated by clubs as the FA Vase has by the Northern League.
Just as Liverpool, Nottingham Forest and Aston Villa flew the flag for the Football League throughout Europe, Whitley Bay's treble of successes between 2009 and 2011 and Dunston UTS's victory last season have established a seemingly unbreakable hold on the trophy, and Spennymoor Town are the latest finalists bidding to extend that run.
Although for many of the players Saturday's game will be a first taste of the big occasion, there are veterans of the Wembley experience among their ranks.
"You never get sick of going to Wembley," assistant boss Gavin Fell - a former member of the victorious Whitley Bay coaching staff - told BBC Tees. "This is my fourth occasion, I was part of the three wins.
"People keep coming up and saying about being sick of it, but I'd go there every day of the week, it's an absolutely fantastic place."
That sentiment is shared by Leon Ryan, twice captain of the Bay and presented with the trophy at the national stadium.
"To get there once is a fairytale but to get there three times? I'm just as excited as I was about the first time," Ryan said.
"It's with a fresh bunch of players, some of who I've known for a long time and played football with since I was 10 or 11 years old, so it's going to be a special occasion."
Ryan, 29, led Hetton Lyons to FA Sunday Cup victory at Anfield, as well as Whitley Bay at Wembley, and is yet to taste defeat in the final of this competition as he seeks a personal hat-trick.
"If you haven't been before you don't know what to expect, or the pitfalls, how big a game it is and if you lose it seems like the end of the world," he added.
"I've won it twice, I know the feeling of how good it was and speaking to the players who lost to Whitley Bay how devastating it was for them.
"The freshness of the boys and the naivety of the boys will help, as will the experience of myself, Mickey Reay, who lost the final last year with West Auckland and Chrissy Moore [FA Trophy winner with Darlington in 2011 and Vase winner with Whitley Bay].
"If I can play any small part in terms of talking the boys through and trying to pass my experience on I will, but I'm sure I won't need to because we got a really talented bunch of boys."
Manager Jason Ainsley has taken the Moors to three Northern League titles in a row before this term, although as the Vase campaign has emerged as a major goal.
However, with the Cleator Moor Cup already stowed in the cabinet, and with Brookes Mileson and Durham Challenge Cup finals also to fulfil, Moors have much to fight for at the end of the season.
"I want to win every game, whether it's a friendly or a testimonial," Ainsley said.
"We wanted to win the league, but Darlington to be fair have been on a tremendous run since Christmas, but to top 120 points at this level I don't think we'd have caught them.
"To be in three finals, win one or two of them and finish second, I'll be a happy man."